Show lineup for Bag&Baggage includes Shakespeare, comedy, 'whodunit' twists
The nonprofit is preparing for its "most artistically challenging and ambitious season ever," said Scott Palmer, artistic director. The 2015-16 season features six full-scale productions.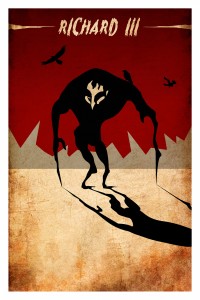 The 2015-16 season begins with the company's seventh outdoor Shakespeare in late July, the North American premiere of one of Palmer's most celebrated and controversial adaptations, "Richard III."
For three weeks in September, Bag&Baggage will present the West Coast premiere of a recent off-Broadway smash, "The Best of Everything." Based on the controversial 1958 novel by Rona Jaffe and adapted by playwright Julie Kramer, the play tells the stories of ambitious secretaries living in New York City in the 1950s.
October's Halloween show will be Patrick Hamilton's reverse murder mystery, "Rope." In Hamilton's taut, edgy masterpiece, two graduate students decide to murder a fellow student "just for the fun of the thing."
In November, Bag&Baggage will present the third in Palmer's 1940s-style radio show farces, "A KBNB Kristmas Karol," performed over four weeks in November and December 2015. In this over the top, fast-paced, frantic comedy, the golden age of radio is coming to an end, and so, too, are the careers of the stars of the fictional KBNB Radio Classics program.
The March performance slot has been reserved for a major Shakespearean adaptation for the past seven years. In 2016, however, Orson Welles' "Moby Dick, Rehearsed" is in store for three weeks in March. The premise of Welles' treatment of the Melville classic is that a Shakespearean acting troupe is in rehearsals for a production of Shakespeare's "King Lear." The director enters the rehearsal and hands out copies of a script for a new play based on "Moby Dick," and the actors take up their new roles and begin to transform the simple rehearsal space into the sails, masts and deck of the ship that is hunting the great white whale.
The 2015-16 season comes to a close with a Bag&Baggage-style treatment of one of the most endearing, enduring novels in English literature, Jane Austen's "Emma." In a beautiful and charming adaptation by Michael Fry, "Emma" contains all of the quirky charm and wonderful eccentricities of Austen's cherished characters. This will be an Oregon premiere performed in celebration of the bicentenary of the novel's publication over four weeks in May 2016.
For ticket information, visit bagnbaggage.org.