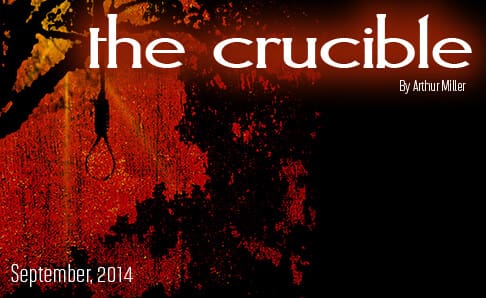 BAG&BAGGAGE PRESENTS THE CRUCIBLE:
WE WILL ALL BURN TOGETHER
Bag&Baggage presents a powerful new vision of Arthur Miller's definitive story of terror and religious extremism, THE CRUCIBLE – Featuring the largest cast in the company's history and starring local high school students as the young accusers
Hillsboro, OR – More than a Tony award winning play, Arthur Miller's The Crucible is a uniquely American tale of fear, suspicion and religious extremism that resonates with audiences today perhaps more than at any other time in recent memory. Bag&Baggage Productions, Hillsboro's resident professional theatre, grapples with questions of paranoia and mass hysteria in a powerful new vision of The Crucible, performed at The Venetian Theatre in Hillsboro from September 4 through the 28, 2014.
Featuring the largest cast in the company's history, the production is Directed by B&B's Artistic Director Scott Palmer and stars a group of students from Hillsboro-area high schools as the young women whose accusations of witchcraft led to the deaths of dozens of innocent people in Salem, Massachusetts in the late 1600s. Miller wrote The Crucible not only as a dramatization of the historical events of the Salem witch trials but also as an allegorical examination of the politically inspired Communist "witch hunt" of the 1950s McCarthy-era.
"The Crucible speaks to our modern times so clearly, so concisely that it is almost hard to believe it was written more than 60 years ago," said Palmer. "Every day we are witness to the horrors of terror and persecution and Miller's play is both profoundly chilling and also deeply hopeful. This production is an ambitious one for us, and one that we hope will connect with audiences in a truly meaningful way."
The production is funded in part by grants from The Ritz Family Foundation, The Reser Family Foundation and the Hillsboro Arts and Culture Council. This funding goes to support a unique "Pre-Professional Training" program for young theatre artists from Hillsboro high schools. Students from Hilhi and Glencoe have been chosen to participate in the production of The Crucible both on and back stage as actors and production crew.
"The young accusers in Miller's play are crucial to the story and the plot," said Palmer who, alongside B&B Resident Acting Company Member Cassie Greer, is providing professional training to the student actors. "Their fear of discovery, their jealousy and their eagerness to take advantage of the hysteria surrounding their community for personal gain are a key part of the relevance of this story. The opportunity to work with six young actors who are the same age as the characters in Miller's story is a unique challenge for everyone involved."
The Crucible stars B&B Resident Company Actors Peter Schuyler (George in Of Mice and Men and Ivar in Rough Crossing) as John Proctor; Arianne Jacques (Rosaline in Love's Labour's Lost and Sybil in Private Lives) as Abigail Williams; and Jessica Geffen (Lana in It's A (somewhat) Wonderful Life) as Elizabeth Proctor.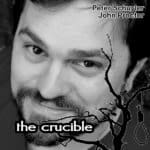 "This is the largest cast we have ever had on The Venetian stage," said Palmer. "There are 20 cast members, including some of the most talented and recognizable actors from Bag&Baggage alongside popular Portland-area actors like Jake Street, David Heath and Michael Streeter. The size of the cast alone makes our production of The Crucible unlike anything else we have ever done."
This production of The Crucible is presented in honor of retiring Hilhi drama teacher Silverna Scott. Friends and colleagues of Silverna's have raised more than $2,500 to sponsor an ongoing internship award in her honor, the Silverna Scott Professional Theatre Internship award. The award will provide one student from Hillsboro High School with a paid professional internship with Bag&Baggage each year.
"Sil has been such a powerful advocate for the importance of the performing arts in student's lives," said Palmer. "We are thrilled to honor her service to this community through this sponsored internship."
The Crucible opens on September 5th and runs Thursday, Friday and Saturday at 7:30pm and Sundays at 2:00pm until September 28th, 2014. The preview performance is on September 4th at 7:30pm. Tickets range in price from $18 – $30 and can be purchased online at www.bagnbaggage.org or by calling the box office at 503 345 9590. The Crucible is presented by special arrangement with Dramatists Play Service.
About Bag&Baggage Productions: Bag&Baggage is committed to provocative, innovative interpretations of classical works of American and English Drama. Through the use of major literary adaptations and inventive stagings, the company seeks to reconnect the great works of drama to new audiences. Bag&Baggage is the only professional theatre in Hillsboro and is the resident in-house performing arts group at the historic Venetian Theatre in downtown Hillsboro. www.bagnbaggage.org.
# # #
Calendar Listings:
The Crucible by Arthur Miller
Directed by Scott Palmer
Preview: September 4th, 2014 at 7:30pm
Runs: Thursday, Friday, Saturday at 7:30pm and Sunday at 2:00pm – September 5 – 28, 2014
The Venetian Theatre
253 E Main Street, Hillsboro, OR 97123
Tickets: $18 – $30 depending on date and seating section
www.bagnbaggage.org or 503 345 9590