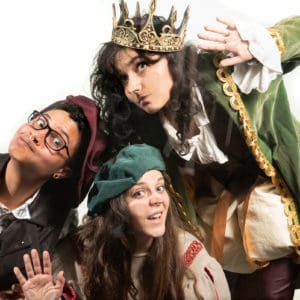 We're back! Doing live theatre! After a pandemic! 
….how does this go again?
Either I haven't written directors notes in 18 months and am out of practice, or my entire perspective has shifted and I no longer care about you (our "esteemed patrons") needing to read words on a (digital) page when you could be experiencing the life that's happening around you… probably a little of both… Either way, there's not much for me to say about this show that will enhance your experience of it more than this:
• It's so easy to get caught up in the whirlwind of being "back to normal" so I invite you to take just a moment for yourself to really enjoy and appreciate the fact that you're here, watching live theatre again.
• If you don't know the first thing about Shakespeare, don't worry; and if you know lots about Shakespeare… well… please forgive us.
• This production of The Complete Works of William Shakespeare (abridged) [revised]  has been created through a highly collaborative process, and you, my friends, are the final piece of this grand collaboration.
When The Complete Works… premiered more than 30 years ago, The London Times called it "stupendous, anchorless joy". What a review! I agree that this show is certainly stupendous, and, at least for me, it is beyond joyful; but I would also argue that far from being anchorless, it is firmly rooted in the now – in this moment that we're sharing together. Thank you for being here to anchor us, and thank you for sharing our joy. I hope you have as much fun watching the show as we have had creating it for you!