Bag & Baggage Delivers Emma In Abundance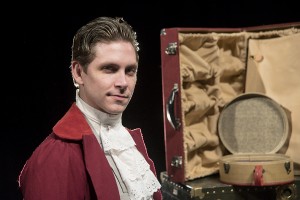 Bag & Baggage's 2015-16 season brought downtown Hillsboro two classic works of 19th century fiction, Moby Dick and Emma, both adapted to theater and presented as a "play within a play" by a strong cast of seasoned professionals. The March production of Orson Welles' Moby Dick Rehearsed stripped a ponderous work to its essence, providing a thoroughly compelling evening of intense drama. The current production of Emma would definitely benefit from an aggressive Wellesian culling. The show is charming, often very funny, but at just over three hours (including intermission) it is simply a bit too long.By Tina Arth
The problem is not director Patrick Walsh's pacing – there's just an overabundance of material in Michael Fry's adaptation of Jane Austen's iconic comic novel. Despite the cast's often fast and furious delivery of dialogue and snappy character changes, my guest and I found ourselves glancing at our watches as 9:00 p.m. came and went before the end of Act I.
The premise is both fun and appropriate (to Austen's sensibilities) – three young women, stuck indoors, find everything they need to put on an impromptu play in a crowded and rambling attic. They drag two young men into the game, Emma is chosen as their vehicle, and they perch three stuffed animals at the edge of the stage as their audience (the lion and tiger seemed to enjoy it, but I think the koala bear fell asleep). The five manage (aided by a rather extensive collection of old clothing and prop material stored in the attic) to portray all of the characters in the novel. The fact that they are working directly from the book, rather than a play script, provides both the principal strength and the main weakness. On the plus side, the recitation of much of Austen's dialogue preserves the work's original comic sensibility and period feel. On the minus side, the frequent utilization of the novel's narrative segments, while necessary to clarify the story, lends a sometimes-annoying expository tone.
The five-person cast does an impressive job of breathing life into the script. Clara-Liis Hillier (Sarah) fills but one role – that of the overbearing, inadvertently snobbish, manipulative, self-centered but lovable Emma. Sarah, like Emma, knows better than anyone what's best, and Hillier beautifully captures all of her character's quirks and airs as well as her puzzlement when things begin to go awry.  The other four cast members are exceedingly nimble and often hilarious as they change parts, social classes, and sometimes genders with little more than their bodies, voices, wigs and accessories to mark the fast-paced character shifts.  Cassie Greer (Jane) is a wonder as she shifts from the naïve and simpering Harriet Smith to the motor-mouthed hysteria of Miss Bates, and Arianne Jacques (Elizabeth) seems convincingly unrehearsed as she cheerfully bobbles her transformations from Emma's former governess, her frenemy Jane, and her father Mr. Woodhouse. Joey Copsey (Robert) is consigned to the role of straight man (and woman) – he quietly shines as the restrained and intelligent Mr. Knightly. Finally, you can't miss Andrew Beck (William); his height and good looks make him equally memorable as the foppish Mr. Churchill, the self-righteous Mr. Elton, and the sturdy but unexciting famer, Mr. Martin.
The set is impressively crowded with antiques, chests, and cast-off luggage to create both the feel of an attic and the ambience of Austen's 1815 setting. Designer Melissa Heller's costumes are remarkably detailed, from Hillier's thoroughly modern shorts and tights to the awkward early costumes and finally, as the characters are fully fleshed out, elaborate and authentic period attire.
Emma is an impressive accomplishment, despite its length – forewarned, audiences who fortify themselves with a cup of coffee rather than a pre-show glass of wine will leave the theater content and, like the stuffed tiger and the lion, wide-awake and entertained.
Bag & Baggage's Emma is playing at Hillsboro's Venetian Theatre, 253 E. Main Street, through May 29, with performances Thursday through Saturday at 7:30pm, Sunday at 2:00pm.