BEFORE MAD MEN, PEYTON PLACE, AND SEX AND THE CITY THERE WAS THE BEST OF EVERYTHING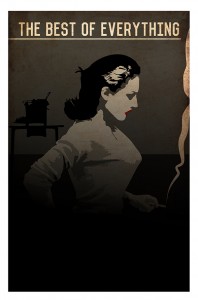 Hillsboro, OR – Rona Jaffe's controversial 1958 novel about the lives and loves of "working girls" in the big city is considered a breakthrough work, an iconic story that unapologetically and with authentic tenderness explores the trials and tribulations of women's lives in the late 1950s. The Best of Everything was so groundbreaking that it inspired and influenced dozens of subsequent stories about women in the big city, including a film of the same name starring Joan Crawford, a short-lived television series, and one of the most popular television shows in recent memory, Mad Men. So influential was the novel on the creators of Mad Men that, in one scene, anti-hero Don Draper is shown reading a copy of Jaffe's work while the "girls in the typing pool" work outside his office.
Bag&Baggage Productions, Hillsboro's resident professional theatre, presents the West Coast premiere of the stage adaptation of Jaffe's novel, adapted by Julie Kramer, from September 10 – 27, 2015 at The Venetian Theatre in downtown Hillsboro. The Best of Everything stars a number of B&B's female Resident Actors and is directed by Guest Director Michelle Milne.
"The Best of Everything is a true classic," said Scott Palmer, B&B's Artistic Director. "An adaptation of an important novel by a woman, adapted by an up-and-coming female playwright from New York – the play is a remarkably timeless story about the sacrifices, sorrows and joys experienced by ambitious young women working in 1950s New York. What is so amazing about the play is that, although it is set nearly 60 years ago, there is something painfully familiar about these women's experiences."
The Best of Everything tells the story of a group of five young women working for a New York Publishing company. Among the cast of characters are Caroline, a recent Ivy League graduate who dreams of advancing beyond the typing pool to an editor's office; young and naïve April who arrives in New York with a mission to reinvent herself and who suddenly finds herself the object of attention for most of the men (married or not) at the firm; and Gregg, a free-spirited actress who secretly yearns for a life of quiet domesticity.
As The Boston Globe said, "This story of five young women is, remarkably, the story of someone you know."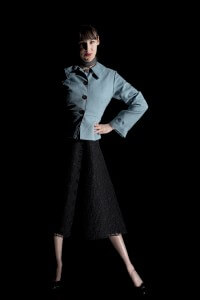 "What struck me first, when reading the play, was both how much and how little things have changed for women," said Cassie Greer, a member of the B&B Resident Acting Company who plays Caroline. "In many ways, this story of women in a 1950s office feels charming, quaint and very far distant. Yet, very quickly you realize that women in the workplace today are still experiencing the loneliness, insecurity, pressure, and discrimination the characters in Jaffe's story experience."
In addition to Greer, the cast includes Bag&Baggage Resident Actors Arianne Jacques as Gregg Adams, Jessi Walters as Mary Agnes Russo, Andrew Beck as Eddie Harris  and Joey Copsey as a number of male characters. Also joining the cast are Morgan Cox as Amanda Farrow, Kaia Hillier as April Morrison, and Stephanie Leppert as Brenda Zaleski. Costumes are designed by B&B's Resident Costume Designer Melissa Heller, scenic design by Resident Scenic Designer Megan Wilkerson, lighting design by Resident Lighting Designer Molly Stowe, and sound design by Scott Palmer.
Bag&Baggage is the first company to produce the stage version of the script on the West Coast. The 2012 premiere, off-Broadway in New York, was hailed by The New York Times, who wrote, "This approach gently and divertingly reminds us that Jaffe's novel focused a clear and abidingly useful gaze on women caught in a moment in time that isn't as distant as you might suppose." The New York theatre review website THEATREMANIA said, "This clever adaptation of Rona Jaffe's novel about secretaries in the 1950s is an absolute treat…The Best of Everything nimbly lives up to its title."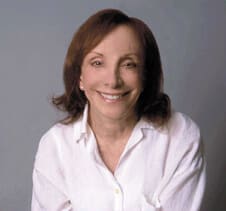 About The Author: Rona Jaffe (1931-2005) was the author of sixteen books, including the bestselling internationally acclaimed novels The Road Taken, The Cousins, Family Secrets, Mr. Right is Dead, Mazes and Monsters, The Last Chance, Five Women and The Room-Mating Season, as well as the classic best-sellers Class Reunion and The Best of Everything. She founded The Rona Jaffe Foundation, which presents annual awards to promising women writers of literary fiction, poetry, and creative nonfiction. It is the only national literary awards program of its kind dedicated to supporting women writers exclusively. Ms. Jaffe was a lifelong New Yorker.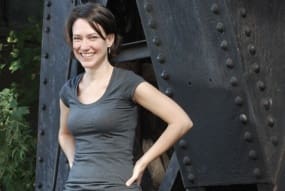 About The Director: Michelle Milne has worked as a theatre artist and educator across the country. In Oregon, she has worked with Hand2Mouth Theatre, Sojourn Theatre, Open Hearts Open Minds, and Portland Playhouse. Primarily based in Chicago and Indiana, Michelle also travels regularly to New York City to continue her advanced training as a Feldenkrais Method practitioner; southern Arizona to continue exploring her interest in borders as a place of exchange and transformation; and to Oregon where she collaborates with a wide range of theatre companies. She teaches in the theatre departments of Columbia College in Chicago, and Goshen College in Indiana.
About Bag&Baggage Productions: Bag&Baggage is committed to provocative, innovative interpretations of classical works of American and English Drama. Through the use of major literary adaptations and inventive stagings, the company seeks to reconnect the great works of drama to new audiences. Bag&Baggage is the only professional theatre in Hillsboro and is the resident in-house performing arts group at the historic Venetian Theatre in downtown Hillsboro. www.bagnbaggage.org.
# # #
Editor's Note: Promotional Photos Available By Request
Calendar Listings:
The Best of Everything
based on the novel by Rona Jaffe, adapted by Julie Kramer
A West Coast Premiere
September 10, 11, 12, 13, 17, 18, 19, 20, 24, 25, 26, and 27, 2015
Thur/Fri/Sat at 7:30pm and Sunday at 2:00pm
The Venetian Theatre, Hillsboro
253 E Main Street, Hillsboro 97123
Tickets: $18 – $30 depending on date and seating section
www.bagnbaggage.org or 503 345 9590
https://bagnbaggage.org/events/the-best-of-everything/
Note: Pre-show "Magazine Series" Lectures each Friday evening from 6:45 – 7:15pm
Post-show Discussions and Talk-Backs Sunday September 13 and 20 immediately following the performance