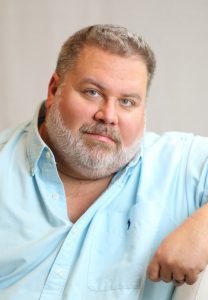 "A nice family friendly holiday show. A comedy, but with a heart.  AND I get to play a man this time???  I'm in!"  I told Scott after he invited me to be part of Parfumerie with Bag&Baggage.
The former two roles I'd played (with great joy I might add) were Lady Bracknel in The Importance of Being Earnest in 2008, and Phoebe Reece in The Farndale Avenue Housing Estate Townswomen's Guild's Dramatic Society's A Christmas Carol in 2012.  Both were pretty over the top performances, and in both cases I was parading around in some pretty unconfortable heels… even doing a riverdance in them!  Don't get me wrong, playing some crazy and formidable female characters is GREAT fun.  But getting a chance to do something else… like playing my own gender… has its plusses too.
More often, and more recently, I'm in the director's seat… and I love it.  I have spent the last two years trekking down to California in my RV to direct shows there with some dear friends of mine.  But I like being ON stage from time to time as well, when the role and material are a good fit for me; something I can enjoy.  So when Scott contacted me I was happy to get the invite.  Knowing the story from other incarnations, I enjoyed reading the script and reconnecting with the characters in this adaptation.  The play is more of ensemble piece than the musical that I'm familiar with, and has an edge or undercurrent to it that makes the comedy and love between the characters all that much more warm and endearing.  Sipos also gives me a chance to play a type of character, that of an older, wise yet charming and funny gentleman, a lower status character, that I haven't really played before.  So that too had a strong appeal.  I guess I'm at that age!!  (no comments please).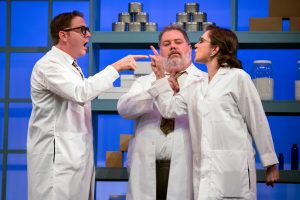 So here we are, now preparing to enter week three of rehearsal.  I'm reminded of how tiring this type of schedule can be… working full time, and rehearsing in the evenings.  So I'm kinda still getting my "stage legs" back, and building my stamina, but I'm connecting as always with the creative process that I love.  Interactions with fellow actors who are smart, thoughtful and creative, work with talented directors who steer the ship, they help us with the perspective that only someone sitting out front can relate.  It all helps us to mold the moments, the characters, the arch and ultimately the story.
An actor is just a piece of the puzzle that makes up the performance.  We are literally seeing through the eyes of just one character involved in the whole.  Unlike film where actors can look at dailies or even a video playback to see how things actually look after they've done it, we rely on feedback from the director out front to tell us if something is working, as we are doing it, ourselves and in concert with everyone else, and in the frame of the stage picture.  So it's largely about trust.  We trust that external vision and guidance.  We trust our fellow actors to do their part with us, passing the energy back and forth.  We trust in ourselves, our own skills, experience and interpretation to bring our character to life in a way that serves the story as a whole.  Hopefully it comes to communicate the messages that the author is trying to relate.  We're pretty lucky to be able to do all this.
I hear often from friends who watch me studying my lines, doing homework, going to countless hours of rehearsal, who say "I could never do that!"  In part it's the skill involved, and partly they just wouldn't want to devote the time and effort!  But those same friends will come see a show of mine and sometimes, if we do our jobs right, they are nearly speechless after at what we accomplished and how we affected them.  It's all part of why I do it, and love it.  The effort, the creative process, the magic that can happen, and the resulting emotions that somehow make their way off the edge of the stage and into the hearts of the audience.
Yep… pretty lucky indeed.
Patrick Spike
Mr. Sipos