Tina Arth and Darrell Baker of Westside Theatre Reviews join the chorus of praise for Love's Labour's Lost! Read the review online here or the full text below!
Another Labour of Love from Bag & Baggage
By Tina Arth and Darrell Baker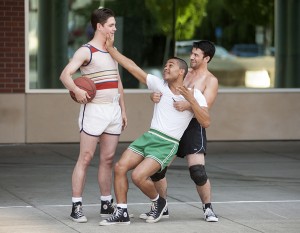 Bag & Baggage's artistic director, Scott Palmer, has worked his magic scissors on yet another of Bill Shakespeare's overblown fancies – in this case, the much ignored Love's Labour's Lost, a play so universally dismissed that its relatively brief seven year life on the English stage was followed by a 235 year hiatus. Palmer's adaptation miraculously resuscitates one of the Bard's least-loved comedies into a genuinely funny, audience pleasing, mercifully brief (Palmer chopped the show, the cast, and the number of convoluted plotlines in half) farcical synthesis of The Three Stooges and La Dolce Vita – writ large on the concrete of Hillsboro's Tom Hughes Civic Center Plaza.
In a nutshell, the story is this: Ferdinand, the newly minted King of Navarre, and his two lordly sidekicks vow to eschew all contact with women for three years in order to immerse themselves in cleansing philosophical growth. Ferdinand has conveniently forgotten that he is due a visit from the alluring and sophisticated Princess of France and her two BFFs, who spin into town on matching pink Vespas. Vows quickly crumble. The arrival of the Spanish knight Armado (a stunningly Quixotic buffoon) provides another layer of complexity, particularly because he brings along his own versions of Sancho Panza (in the form of the servant Moth) and Dulcinea (the tempestuous and round-heeled Jaquenetta). After lots of verbal bawdiness (liberally accompanied by broad physical cues for those of us whose ears are ill-attuned to the rhythms of Shakespearean dialogue) all is resolved – three years of celibacy are reduced to the one full year that the men will wait before wedding and bedding their loves. Alas, there is no wench for Armado as Jaquenetta ends up in the arms of Moth. End of story.
This senseless plot works (and works well!) for two reasons: Scott Palmer's fearless and irreverent staging and a ridiculously talented cast. Andrew Beck's portrayal of Ferdinand, King of Navarre, is particularly funny. His mobile face moves fluidly from arrogance to confusion as he attempts to parry the verbal jabs of the much-cleverer noblewomen who invade his kingdom. His romantic counterpart, Cassie Greer (the Princess of France) is a smart, powerful, and confident adversary who so easily outwits the king that one wonders what she sees in him. Greer is powerful, striking, and elegant – a born leading lady.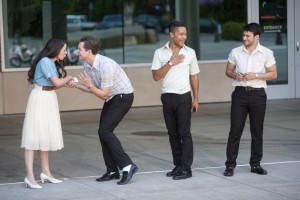 From the first moment that she stomps across the plaza, Rachel Rosenfeld (Jaquenetta) grabs the audience's attention and sympathies, a feat she repeats every time she appears. Her Real Housewives of New Jersey accent and K-Mart wardrobe telegraph her social status (or lack thereof). She is the perfect mate for Adam Syron's pathetically ill-used Moth, who absorbs his master's constant physical and verbal abuse with hilariously patient and long-suffering aplomb. The bizarre Spanish tango performed by Rosenfeld, Syron, and Gary Strong (Armado) perfectly captures the production's outstanding absurdity.
Despite occasional environmental disruptions (blocked off streets do not silence airplanes) the actors need no amplification – the entire cast projects the fast-paced Elizabethan dialogue with crisp clarity. Costume designer Melissa Heller complements Palmer's vision with her quirky and eclectic fashion choices – the addition of elaborate bows to her hard-edged Italian designs lends a vaguely Renaissance flair, and the tacky costumes for the tango number are perfect for the bumbling dancers.
Purists beware – as with many of Bag & Baggage's Shakespearean adaptations, this show may well appeal most to those who love the Bard least. Ironically, the spirit of the Old Globe is probably expressed more faithfully in Palmer's staging than in a more traditional, but stuffy, approach to the material.
Bag & Baggage's production of Love's Labour's Lost runs through August 9th with shows at 7:30 p.m. on Thursday, Friday, and Saturday evenings. All performances are held at the Tom Hughes Civic Center Plaza, 150 E. Main Street, Hillsboro.
Westside Theatre Reviews at 12:34 PM