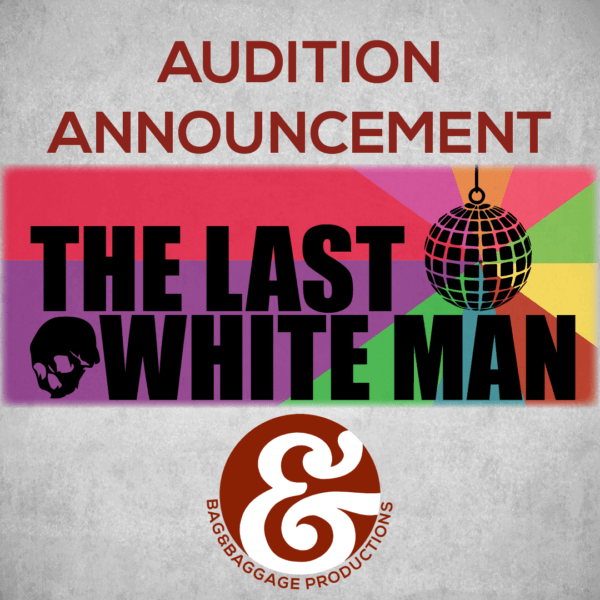 Bag&Baggage Productions: Audition Announcement – The Last White Man by Bill Cain
Bag&Baggage Productions, Hillsboro's resident professional theatre, is holding auditions for their upcoming Fall show, The Last White Man by Bill Cain. Directed by Scott Palmer, rehearsals begin on September 12th, 2022 and the show opens on October 13th, 2022 and closes on October 30th, 2022. Auditions, rehearsals and performances will take place at The Vault Theatre in Hillsboro.
About The Play:
Playing (and directing) Hamlet is hard. In a troubled production of Hamlet, three successive actors fight their way through Shakespeare's longest and most challenging role. Xandria, the production's black, female-presenting director, just wants to produce Hamlet one last time – to create a truly perfect version of Shakespeare's greatest work – so that we can all move on and focus on new stories and new voices. But three white, male-presenting actors (movie star Charlie, his understudy Rafe and the talented and troubled Tigg) battle doubts, ghosts, the critics and each other while trying to prove that theirs is the Hamlet to remember. The play takes place in the 1980s in and around a theatre space.
Bill Cain's new play, receiving it's Pacific Northwest Premiere, explores a broad range of questions and issues, including about the very nature of Hamlet, white privilege in Shakespeare, the AIDS crisis of the 1980s, the terrors of acting the most famous role in western literature, assumptions about the place of Hamlet, and Shakespeare, in the western theatre, and also includes a hilariously over-sized ghost of Hamlet's father costume.
About The Playwright:
Bill Cain is the author of HOW TO WRITE A NEW BOOK FOR THE BIBLE, which premiered in the 2011-2012 season at Berkeley Repertory Theatre and Seattle Repertory Theatre. His play 9 CIRCLES was awarded the Sky/Cooper Prize by Marin Theatre Company where it received its world premiere production. His play EQUIVOCATION received its world premiere production at the Oregon Shakespeare Festival and its New York premiere at Manhattan Theatre Club, as well as being produced at theGeffen Playhouse (Ovation Award for Best Play), Seattle Rep, Marin Theatre, and Arena Stage. He is the founder of the Boston Shakespeare Company, where he was Artistic Director for seven seasons, directing most of the Shakespeare canon. Awards include: Steinberg New Play Award (first ever recipient two years in a row), multiple Edgerton grants, Helen Hayes Awards , the Joe A. Callaway Award, a Peabody, the WGA Award for Episodic Drama and a Christopher Award, among others.
Roles Available:
CHARLIE – a traditionally "perfect" actor to play Hamlet, recent Oscar winner, white, male presenting, 30ish
XANDRI (Alexandra) – an Oxbridge-educated avant-garde director, black, female presenting, 30ish
TIGG (Tadhg Fletcher, Irish name, pronounced with a long "I" as in the first syllable of TIG-er) -brilliant, charismatic, troubled actor, white, male presenting, 30ish +
RAFE (Ralph) – the understudy. Talented, knowledgeable, working actor with something to prove, white, male presenting, 30ish
Compensation:
All roles will be paid as hourly employees no less than $2160 in two installments. We are not able to offer roles to AEA represented actors.
How to be considered for an audition:
Email your current resume and headshot to auditions@bagnbaggage.org before 5pm on August 10th, 2022

We prefer your resume to be in .pdf format and your headshot to be in .jpg format, not to exceed 1mb in size (a small, color jpg version of your headshot is fine).

Successful actors will be notified by email with a link to our audition calendar and you may select any available slot that works for you.
If selected to audition:
You will receive an email inviting you to audition by Thursday August 11th.

Auditions will take place during the evening of Friday August 12, and daytime on Saturday August 13 and Sunday August 14 (times to be determined).

Each selected actor will be given a 20-minute slot for their audition.

Please prepare 2 contrasting monologues (one of which must be from Shakespeare, preferably from Hamlet) for your audition.

Each actor will be given a few minutes to ask/answer questions about the show, your process, how you work with directors and other actors, etc.
A few important things to note for actors interested in securing an audition time:
All auditions will be by invitation only; please be aware that we have a limited number of roles available and although we truly do appreciate your interest, you may not fit our needs at this time.

We are not able to accommodate times outside of the audition schedule.

Auditions may be followed by callbacks, which would be required for any actor we consider; please ensure you are available for callbacks prior to submitting your resume for consideration. Call backs would take place in the evening during the week of August 22nd – August 26th, 2022.

Auditions, callbacks, rehearsals, and performances all take place in Hillsboro, located approximately 20 miles west of Portland. Our rehearsal and theatre space is located just 2 blocks from the MAX line; however, for some actors based in Portland, this commute can be problematic. Please consider the travel time required for working with us prior to submitting your resume.