BAG&BAGGAGE ANNOUNCES 2015 GALA AUCTION FUNDRAISER
Hillsboro's Resident Professional Theatre Company Presents A "Midsummer Night's Dream" Themed Dinner and Auction In Support Of The PASSPORT Program
 Hillsboro, OR – The idyllic surroundings of Oakwood Gardens in Hillsboro will be transformed into the magical forests of Shakespeare's A Midsummer Night's Dream this July for Bag&Baggage Productions' seventh annual Gala Dinner and Auction. The event, which has become one of the most popular in the company's history, takes place on July 11th, 2015 and will raise funds for the PASSPORT program – a unique free ticket program for high school students from a four county region.
"Our annual gala is our primary fundraising event for PASSPORT," said Scott Palmer, Bag&Baggage's Founding Artistic Director. "Each year, hundreds of our supporters and fans gather to enjoy fantastic food, incredible wine, and unique entertainment, and bid on more than $50,000 in silent and live auction items, all to support free tickets for high school students."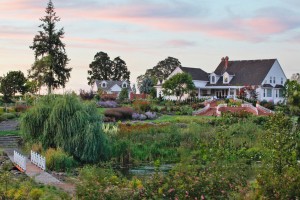 The 2015 Gala, A Feast For Oberon, is inspired by the royal fairy court from William Shakespeare's A Midsummer Night's Dream. Oberon, the King of the Fairies, and Titania, his Fairy Queen, will be the hosts of the event which takes place in the seven acre Oakwood Gardens Estate. Bag&Baggage Resident Actors will be dressed as fantastical characters from mythology and will provide music, poetry and performances throughout the event.
"Oakwood Gardens is simply stunning," said Palmer. "It really is the ideal location for a magical themed event like this."
PASSPORT is a unique free ticket program that provides high school students from Washington, Yamhill, Tillamook and Columbia counties with free, on demand tickets to any Bag&Baggage performance. Over the years, thousands of high school students from across the region have taken advantage of PASSPORT to attend shows, helping to eliminate the barrier of ticket price for attendance to professional theatre experiences. "Bag&Baggage is 100% committed to ensuring that any student who wants to attend live theatre can, without having to worry about the price of tickets. Our annual gala is the main way that we fund this important program and every dollar raised at our gala goes directly to support PASSPORT," said Palmer.
Tickets for the event at $85 and include a four course dinner, provided by Hillsboro's Claeys Catering, along with wine and entertainment.  Claeys Catering has more than 30 years of experience in the Hospitality and Food Service Industry. Jim Claeys, owner of Claeys Catering, was an executive chef for Horst Mager Restaurants and a Guest Chef for The Town Club.
Guests have the opportunity to bid on a wide range of silent and live auction items, including the opportunity to have a walk-on role in a Bag&Baggage performance, select the company's 2016 outdoor summer show title, VIP packages to the Oregon International Airshow, and dozens of vacations, experiences, and live entertainment packages. "One of our most popular packages is the Experience Theatre package," said Palmer. "It includes tickets to theatre companies across the state, including Portland Center Stage, the Oregon Shakespeare Festival, Artists Repertory Theatre and more." More than 400 businesses, non-profits and artists donate to the event each year.
More information on tickets, the menu, auction packages and Oakwood Gardens can be found online at www.bagnbaggage.org. Ticket sales for the Gala close on July 6th at 5:00pm. Call 503 345 9590 for more information or to book your tickets.