2013 Annual Gala and Auction Expands Free Ticket Program to Historic Levels
Bag&Baggage's Fifth Annual Gala Dinner and Auction, Held On July 13th, Raised Historic Levels of Funding For the Company's Unique "TEN4ONE" Free Ticket Program
Hillsboro, OR – Bag&Baggage's TEN4ONE program, which provides free "on demand" tickets to live theatre for any student from any Washington County High School, received a huge boost Saturday during the theatre company's annual Gala Dinner and Auction. The event, held at the Garden Vineyard Farm in Helvetia, attracted nearly 140 guests and raised over $50,000 to support the TEN4ONE program.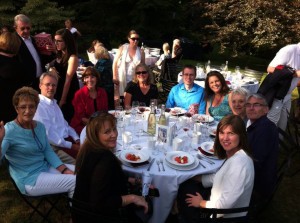 Bag&Baggage, Hillsboro's only professional theatre company, has managed the TEN4ONE program for the past five years and has made thousands of free tickets available to students from participating schools. Those schools were previously limited to Hillsboro and western Washington County, but for the 2013-2014 Season, the number of participating schools has nearly tripled and now includes every high school in Washington County. The expansion of the number of participating schools was made possible through grants from the PGE Foundation and The Standard Insurance.
During the 2013 Gala, patrons donated directly to support the TEN4ONE program and every dollar raised goes to cover costs associated with providing free tickets, developing curriculum guides for teachers and operating costs.
"In previous years, we saw a lot of interest from Hillsboro schools like Glenco, Century and Hilhi," said Scott Palmer, Bag&Baggage's Artistic Director and a 1986 graduate of Hilhi. "This year, through grant support, we are expecting to see dozens more schools participate, dramatically increasing access to professional performing arts for Washington County students."
The TEN4ONE program is simple: any student from a high school in Washington County simply shows up at the box office of The Venetian Theatre prior to any performance and shows a valid student id. They then receive a free ticket to that performance, no questions asked. With funds raised from the 2013 Gala, Bag&Baggage will make 6,000 total tickets available over the course of their 5 performance season which includes classic works like The Great Gatsby, Noel Coward's Private Lives, and a North American premiere of Palmer's adaptation of William Shakespeare's King Lear.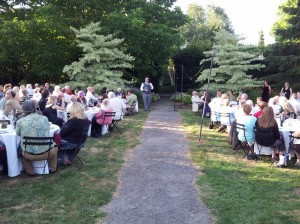 "With arts budgets under pressure, and many schools eliminating arts curriculum entirely, the TEN4ONE program helps to ensure that any student with an interest in theatre can get access," said Palmer. "The program targets the two greatest barriers to participation: cost and distance. Many students simply can't afford to buy a ticket, much less make their way into Portland or other cities where theatre is being produced. With TEN4ONE, cost and travel are simply no longer barriers to access."
More information on the program can be found at www.bagnbaggage.org.
# # #