THREE WORLD PREMIERES, A HOLIDAY RADIO MASSACRE, ONE OF THE MOST CELEBRATED PLAYS IN RECENT ENGLISH HISTORY AND THE PLAY THAT INSPIRED A HITCHCOCK MASTERPIECE ALL COME TOGETHER IN BAG&BAGGAGE'S SEVENTH SEASON!
HILLSBORO, OR – Bag&Baggage Productions, Hillsboro's resident professional theatre company, is thrilled to announce an exciting line-up for their seventh season as the in-house performing arts group at the Venetian Theatre. The season includes three world premieres, a sequel to the company's 2013 smash holiday show, one of the most celebrated English plays of the past 30 years and the play that inspired one of Alfred Hitchcock's great cinematic masterpieces.
"We are pulling out all the stops for our seventh season," said Scott Palmer, B&B's Founding Artistic Director. "We are upping our game in terms of production values, complexity, cast size, production length and just brazenly showing off the skills and talents we have developed over the past six seasons."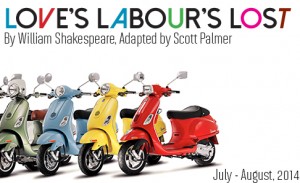 The 2014-2015 Season begins outdoors at the Tom Hughes Civic Center Plaza with a world-premiere adaptation of William Shakespeare's romantic romp Love's Labour's Lost, adapted and directed by Palmer. "For the Bard's great comedy of disguise, deception and mischief, I've turned to the stunning Italian masterpiece La Dolce Vita for inspiration. Love's Labour's will be one of the most stylish and sumptuous productions we have ever done outdoors," says Palmer. Using original source materials and materials from Restoration-era plays inspired by Shakespeare's work, Love's Labour's Lost will feature a cast of B&B's 2014-2015 Resident Acting Company riding in on vintage Vespa scooters. Love's Labour's Lost runs from July 24 – August 9, 2014 at the Tom Hughes Civic Center Plaza. Love's Labour's Lost is Bag&Baggage's first contribution to the Portland area "Complete Works Project" which will see every one of Shakespeare's plays produced during a two year period.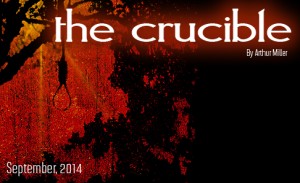 Moving back indoors for another B&B take on an American classic, Palmer turns his attention to one of the most powerful, important and relevant works in American dramatic history; Arthur Miller's The Crucible.  Featuring one of the largest casts to ever appear on the Venetian Stage, The Crucible is Miller's masterpiece of guilt, accusation, fear and mass hysteria and is a story that speaks as clearly to modern audiences as it did when it was first produced in 1953.
Starring a group of B&B's professional actors, The Crucible will also launch the company's first-ever Professional Development program where students from Hillsboro's high schools will cast in professional, paid roles in the production. "We are thrilled to invite talented local high school students the chance to train alongside our professional actors," said Palmer. "This is a unique opportunity for us to connect our work to our community in a very real, very serious way while also helping to train the next generation of local talent." The Crucible will run for four weeks during September, 2014.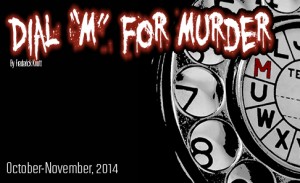 Next is the company's second Halloween-themed show; the stage play that inspired one of Alfred Hitchcock's most celebrated films, Fredrick Knott's classic Dial "M" For Murder. Dial "M" will have a full production run of three weeks giving audiences more opportunities to experience the thrills, chills, drama, and plot-twists of one of the greatest murder-mystery stories ever told. Dial "M" For Murder runs from October 16 – November 2, 2014.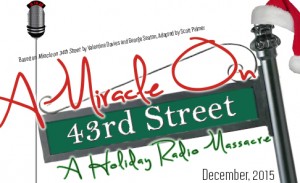 It wouldn't be the holidays without another hilarious, tongue-in-cheek skewering of a Christmas classic, and December of 2014 will be no different. Following on from the critical and audience smash It's A (somewhat) Wonderful Life, Artistic Director Scott Palmer is bringing the cast of the fictional KBNB radio station back to the Venetian for another 1940s radio-show massacre; Miracle on 43rd Street. Starring many of the same performers from last year's show, Miracle On 43rd Street is based loosely (very, very loosely) on the actual text of the Lux Radio Theatre's 1948 broadcast of Valentine Davies and George Seaton's A Miracle on 34th Street. B&B's adaptation will add a Mafia boss with an itchy trigger finger, a New York detective with a passion for Broadway musicals and a radio station manager with a disturbing gastro-intestinal problem to the classic story about a Macy's Santa who turns out to be the real thing. Miracle on 43rd Street runs for four weeks from November 28 – December 23, 2014.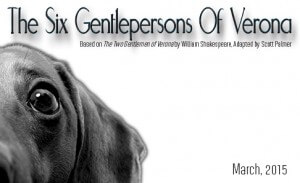 The New Year sees yet another world premiere adaptation of a great Shakespearean classic; The Six Gentlepersons Of Verona. A major adaptation of Shakespeare's The Two Gentlemen Of Verona, the show stars a cast of 6 women playing all 12 of the roles in the Bard's original, performing original music with found instruments and a scene-stealing performing dog. A fast and furious tour-de-force of swordplay, word play, comedy, stage combat, quick changes and (of course) a bit with a dog, The Six Gentlepersons of Verona is a remarkable new addition to the Bag&Baggage stable of Shakespearean adaptations. The show runs from March 5 – 22, 2015 at the Venetian Theatre. Six Gents is B&B's second contribution to the "Complete Works Project."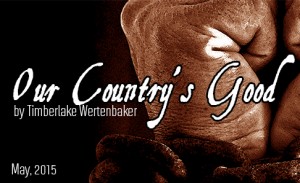 Ending the season is one of the most celebrated English plays of the past 30 years; Timberlake Wertenbaker's remarkable Our Country's Good. Set in 1789, Our Country's Good tells the story of a group of English naval officers and their convict-charges as they arrive on the Australian shore to establish a penal colony. A determined English lieutenant volunteers to direct the convicts – a collection of murderers and thieves – in a comedic stage play as a way of creating a sense of community and connection. Our Country's Good is an adaptation of the Thomas Keneally novel The Playmakers by one of the United Kingdom's most successful female playwrights and is a powerful examination of the transformative power of theatre. Our Country's Good runs from May 7 – 31, 2015.
"This season is our most ambitious yet," said Palmer. "Powerful scripts, American and English classics, world premieres, dramas and comedies…our seventh season has something for everyone."
Bag&Baggage is offering significant discounts on Season Tickets between now and August 17th, with a number of different options for adults, students and seniors. A Platinum Pass (which provides one ticket to each of the six shows) is only $150 for adults and $120 for students and seniors. A Pick 4 Pass (which provides one ticket any four shows) is $110 for adults and $87 for students and seniors. Season Tickets are available online at www.bagnbaggage.org or by calling the Bag&Baggage box office at 503 345 9590. 
About Bag&Baggage Productions:
Bag&Baggage is committed to unique interpretations and novel stagings of plays by the world's best-known authors. We seek to rethink and reinvigorate the most celebrated titles, to challenge the public to experience them in new ways, and to connect our work to the lives and experiences of our audiences. Lead by Hillsboro native Scott Palmer, B&B is the only theatre company of its kind in the Pacific Northwest, and the only professional theatre in Hillsboro.
# # #
Calendar Listings:
Love's Labour's Lost
A world premiere adaptation by Scott Palmer, based on the play by William Shakespeare
July 24 – August 9,  2014
Thursday, Friday and Saturday at 7:30pm
The Tom Hughes Civic Center Plaza
150 E Main Street, Hillsboro Oregon 97123
The Crucible by Arthur Miller
September 4 – 28, 2014
Thursday, Friday and Saturday at 7:30pm and Sunday matinees at 2:00pm
The Venetian Theatre
253 E Main Street, Hillsboro Oregon 97123
Dial "M" For Murder by Frederick Knott
October 16 – November 2, 2014
Thursday, Friday and Saturday at 7:30pm and Sunday matinees at 2:00pm
The Venetian Theatre
253 E Main Street, Hillsboro Oregon 97123
A Miracle on 43rd Street: A Holiday Radio Show Massacre
Adapted by Scott Palmer, from A Miracle on 34th Street by Valentine Davies and George Seaton
November 28 – December 23, 2014
Thursday, Friday and Saturday at 7:30pm and Sunday matinees at 2:00pm
The Venetian Theatre
253 E Main Street, Hillsboro Oregon 97123
The Six Gentlepersons Of Verona
Based on The Two Gentlemen of Verona by William Shakespeare, adapted by Scott Palmer
March 5 – 22, 2015
Thursday, Friday and Saturday at 7:30pm and Sunday matinees at 2:00pm
The Venetian Theatre
253 E Main Street, Hillsboro Oregon 97123
Our Country's Good by Timberlake Wertenbaker
based on The Playmaker by Thomas Keneally
May 7 – 31, 2015
Thursday, Friday and Saturday at 7:30pm and Sunday matinees at 2:00pm
The Venetian Theatre
253 E Main Street, Hillsboro Oregon 97123