BAG&BAGGAGE PRESENTS FIRST (VIRTUAL) LOOK AT "TROY, USA" AS PART OF THE 2021 FERTILE GROUND FESTIVAL OF NEW WORKS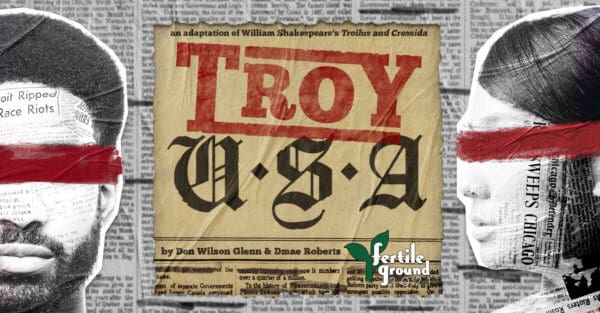 Hillsboro, OR — Bag&Baggage Productions, Hillsboro's resident professional theatre company, opens the year with an online production of Troy, USA by Don Wilson Glenn and Dmae Roberts in conjunction with the 2021 Fertile Ground Festival of New Works. This virtual "staged reading" performance is a first look at the script that is currently in development by Glenn and Roberts, adapted and directed for the onscreen format by Bag&Baggage Resident Artist Lawrence Siulagi.
Troy, USA is the third play commissioned by Bag&Baggage as part of their Problem Play Project, an initiative that invites non-white theatre artists to re-envision Shakespeare's "problem plays" through the lens of their own lived experience and perspective. Glenn and Roberts have taken on Shakespeare's Troilus and Cressida in this adaptation, transplanting the story from the Trojan War to the late Vietnam War era, and utilizing historical activist figures from early 1970s Detroit in the same way that Shakespeare delivered his story through the characters of the Greek epics.
"Troy, USA is a particularly poignant piece for us to be working on here at the outset of 2021," says B&B Artistic Director Cassie Greer. "It tackles issues of race, gentrification, protest and political action, human rights, love, and loss – reflecting the current lived realities of so many people in the United States right now." The version of the show offered this winter as part of the Portland-area Fertile Ground Festival is one stop on the roadmap towards a full production of the script sometime during the 2021/22 theatre season, once companies are safely able to return to in-person and in-theater performances. Glenn and Roberts will continue developing and revising with an eye towards this full production.
"Working on this excerpted version of the full-length of Troy, USA was fun and challenging," says screenadaptor and director Siulagi. "Distilling Don and Dmae's play into a one-hour screenplay required flexibility while maintaining the plot line and the emotional life of its source material: Shakespeare's Troilus and Cressida."
The Bag&Baggage team rehearsed and recorded the play entirely over the Zoom platform that has become so ubiquitous over the past year. "In the beginning, simply doing a reading using Zoom teleconference was discussed, but I felt that yet 'another Zoom theatre' reading would not be enough. Why not try to at least make it feel like a film?" says Siulagi. "So our team set out to use Zoom as the camera, along with post-production editing, sound design, and special effects to create the world. Costumes and lights were delivered to the actors and we began the tedious but rewarding task of filming."
This virtual production features a host of local talent, including Shareen Jacobs, Ashley Mellinger, Wolfie Beacham, Victoria Alvarez-Chacon, James Dixon, Samson Syharath, Joey Copsey, and Jenna Yokoyama; along with design elements by Siulagi (sound and editing), Melissa Heller (costumes), and Jim RicksWhite (lighting); and production management by Ephriam Harnsberger and TS McCormick. Show artwork by Alec Lugo.
Troy, USA premieres on Sunday night, January 31st at 9:00pm on the Fertile Ground Facebook page and YouTube channel; the show will remain available for viewing online through February 15th. Bag&Baggage is hosting a "re-watch" party, including a post-show discussion with Siulagi, Glenn, and Roberts, on Monday evening, February 1st, at 5:00pm. More information, including registration for the re-watch party event, can be found at bagnbaggage.org; more information about the premiere can be found at fertilegroundpdx.org.
###
Calendar listings:
Troy, USA by Don Wilson Glenn and Dmae Roberts Directed by Lawrence Siulagi Online, as part of the 2021 Fertile Ground Festival of New Works Premiering at 9:00pm on Sunday, January 31st
Re-Watch party and discussion at 5:00pm on Monday, February 1st More info at fertilegroundpdx.org and bagnbaggage.org