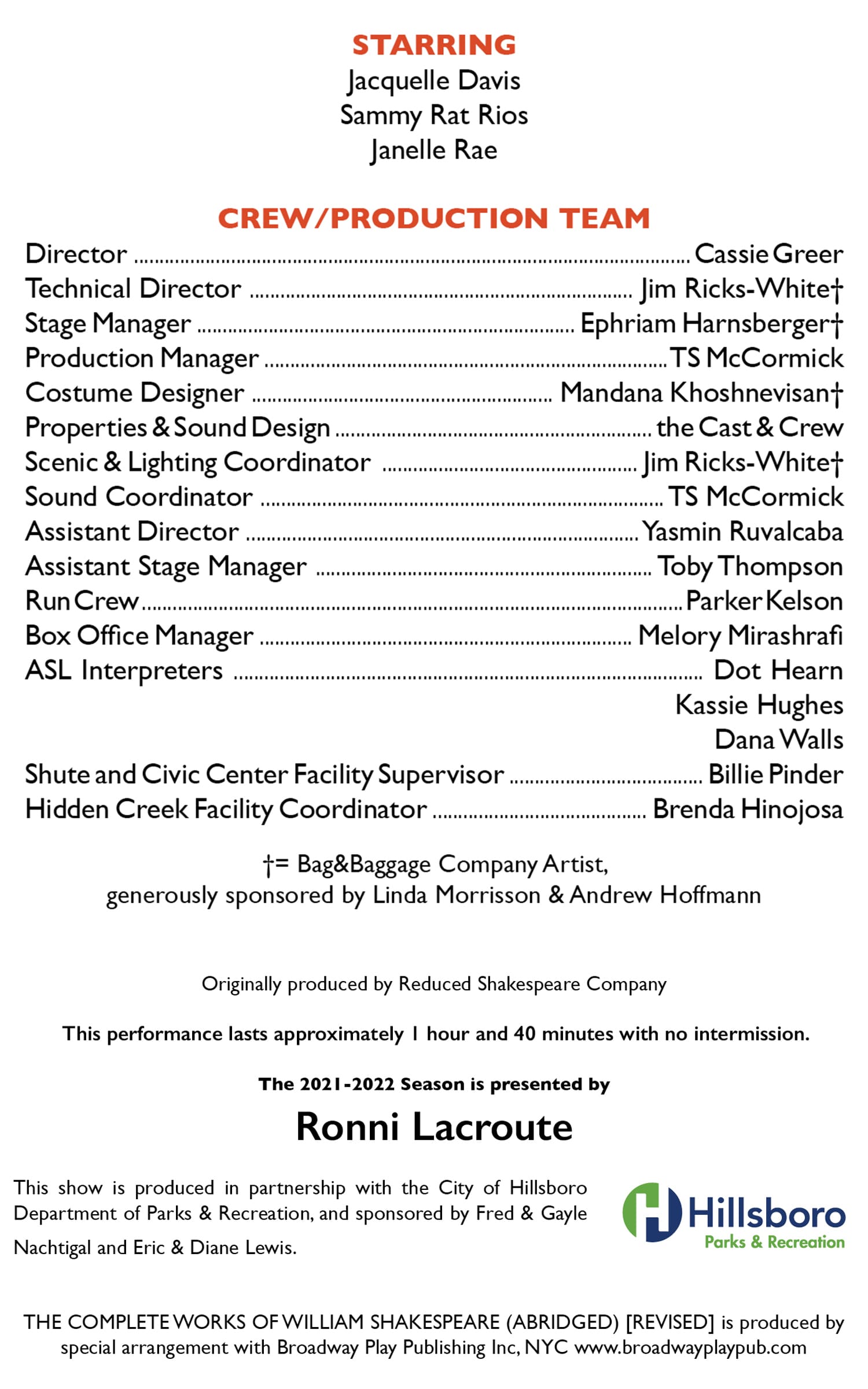 SPECIAL THANKS
Nancy Nye
Dave Miletich
Stacy Ahlberg
Alyssa McGhghy
Jason Moore
Tasha Lovell
Bill Rothschild
Keeping track of who sees our shows provides critical data for our funders, and ultimately enables us to secure greater financial support.
Crew & Production Team Bios
† = B&B Company Artist, sponsored by Linda Morrisson and Andrew Hoffmann
THANK YOU TO OUR CURRENT SPONSORS AND DONORS
Thank you to all our donors who made contributions between February 1, 2020 and June 21, 2021.  (Please email beth@bagnbaggage.org with any corrections.)
Advance Gender Equity in the Arts
Alice Bartelt & Paul Moore
Sara Behrman & F.X. Rosica
Benevity Community Impact Fund
Dan Bergsvik & Don Hastler
The Blackbaud Giving Fund
Brett Campbell & Maria Choban
Karl Citek & Patricia Logan
Kelsey Cleveland & Daniel Bosshardt
Kymberli Colbourne & Jim Ricks-White
Carole Cotten-Figueiredo & John Figueiredo
Cultural Coalition of Washington County
James Draznin & Lorely French
Paul Duchene & Sherry Lamoreaux
Robert Dunstan & Gayle Miller
Christine Edgar & Nathan Johnson
Jane Fellows & Stephen Young
Four Seasons Bowling Center
Michael Fox & Debby Garman
Fred W. Fields Fund of the Oregon Community Foundation
Michael & Jayne Gallagher
Julian Gray & Barb Epstien
Rhonda Handly & Susan Norwood
Ralph & Marilynn Helzerman
Karen Hershey & Roark Berkey
Hillsboro Arts & Culture Council
Hillsboro Arts & Culture Endowment Fund
Andrew Hoffmann & Linda Morrisson
Kevin Hoover & Nita Brueggeman
Arianne Jacques & Jason Myers
Jeff Kishlock & Anne Brennan
Leonard A. & Susan Magazine – Real Estats, Inc.
James F. and Marion L. Miller Foundation
Vickie & Johnathon Miller
Marilyn Mulhall & Ron Nutting
Brennan Randel & Matthew Corwin
The Regional Arts & Culture Council, including support from Washington County and Metro
Richard E. Siegel Foundation
Gary, Tina, & Caitlin Richard
Robert Rineer & Debbie Thomas
Ronni S. Lacroute Fund of the Oregon Community Foundation
Washington County CARES Program Fund of the Oregon Community Foundation
THANK YOU TO OUR CURRENT SPONSORS & PARTNERS