A MURDERER IS CALLING THIS HALLOWEEN
Bag&Baggage Presents Fredrick Knott's thrilling murder mystery Dial "M" For Murder this Halloween Season
Hillsboro, OR – "I have murdered exactly fifty-two people since I saw you last," says Max Halliday to his beautiful and stylish mistress Margot Wendice in Fredrick Knott's thrilling Dial "M" For Murder, brought to terrifying life this Halloween by Bag&Baggage Productions, Hillsboro's resident professional theatre.
Dial "M" is Knott's most successful stage play, eclipsing even his Wait Until Dark as a classic of British murder mystery. The script started out as a BBC television play in the early 1950s and the enjoyed a length run in London's West End and on Broadway in 1952. Alfred Hitchcock took the story and turned it into one of his best known and most celebrated films, named one of the top ten mystery films of all time by the American Film Institute.
Dial "M" For Murder tells the story of Margot Wendice, whose husband Tony is a retired tennis player and, to all appearances, an ideal husband. Betrayal, blackmail, infidelity and murder all combine to create a Sherlock Holmse-style mystery that keeps audiences on the edge of their seats until the final, thrilling end.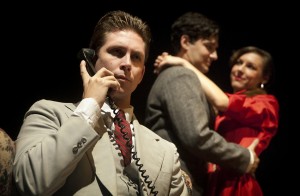 "Unlike most murder mysteries, Dial "M" tells the audience right up front who committed the murder," said Bag&Baggage Resident Actor Cassie Greer, who stars as the feisty Margot Wendice. "The chilling, thrilling part of the story lies in whether or not the Inspector will be able to follow the clues and bring the real murderer to justice."
Guest Directed by Brandon Woolley, Portland Center Stage's Producing Associate and a critically acclaimed director and actor, Dial "M" For Murder also stars B&B Resident Acting Company Andrew Beck as Tony Wendice and Luke Armstrong as Max Halliday. Joining the cast are Philip Berns (recently seen in B&B's Twelfth Night of the Living Dead) as Thompson, Judson Williams as Inspector Hubbard, and Dennis Kelly (recently seen in Clackamas Rep's Philadelphia Story) as Captain Lesgate, with Scenic Design by Megan Wilkerson and Costume Design by B&B Resident Costumer Melissa Heller.
"We are so thrilled to have Brandon joining us for this show," said Scott Palmer, B&B's Artistic Director. "Brandon has a remarkable reputation throughout the region for his incredible directing abilities and for his attention to detail. That is exactly what a show like Dial "M" needs."
Woolley, who has assistant directed a number of shows at Portland Center Stage, was drawn to the script because of the strong female lead. "At the heart of this story is a woman – and not just any woman, a strong, sassy, scissor-wielding woman with depth and class. She challenges the norm.  Even when she's not onstage she is the engine and drive for each and every moment," said Woolley. "It's a strong statement that playwright Fredrick Knott is making especially in the time period the play is set and one that is still relevant in the 21st century."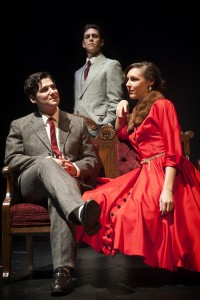 The show's scenic design elements include a Dogville-inspired fragmented set and, a first for the company, a rain machine. "These characters are meant to stand out as beacons of manipulation and fear against London's grey rain. By incorporating a rain machine into the set, we are going to create a very specific and very tense environment for the actors," said Wilkerson, who has designed more than 10 shows for B&B in the past three years.
Dial "M" For Murder has its first preview performance on October 16 and opens on Friday, October 17, running Thursday, Friday and Saturday evenings at 7:30 and Sundays at 2:00pm until November 2. Each Friday evening performance begins with a lecture, part of B&B's new audience engagement program The Magazine Series, from 6:45pm – 7:15pm, enabling audiences to learn more about the work of the company. Tickets are $16 for the preview performance and range from $20 – $30 for all other performances, depending on night and seating section. Tickets available online at www.bagnbaggage.org or by calling the box office at 503 345 9590.
About Bag&Baggage Productions: Bag&Baggage is committed to provocative, innovative interpretations of classical works of American and English Drama. Through the use of major literary adaptations and inventive stagings, the company seeks to reconnect the great works of drama to new audiences. Bag&Baggage is the only professional theatre in Hillsboro and is the resident in-house performing arts group at the historic Venetian Theatre in downtown Hillsboro. www.bagnbaggage.org.
# # #
Editor's Note: Promotional Photos Available By Request
Calendar Listings:
Dial "M" For Murder
by Fredrick Knott
Directed by Guest Director Brandon Woolley
Preview Night: October 16, 2014
Performances: Thursday, Friday, Saturday at 7:30pm and Sunday at 2:00pm
October 17 – November 2, 2014
The Venetian Theatre
253 E Main Street, Hillsboro, OR 97123
Tickets: $18 – $30 depending on date and seating section
www.bagnbaggage.org or 503 345 9590