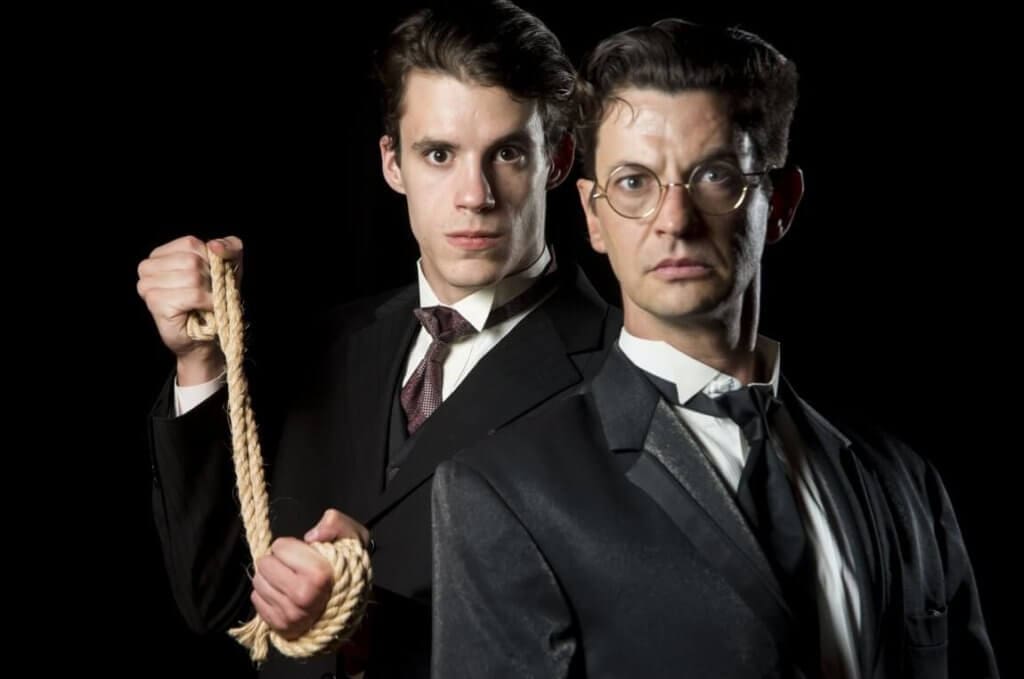 Bag&Baggage Presents Patrick Hamilton's ROPE, The Play That Inspired The Terrifying Hitchcock Classic
HILLSBORO,OR – "A superman," wrote Nathan Leopold at the age of 19, "is exempted from the ordinary laws which govern men." Leopold was writing to his 18 year old lover, Richard Loeb, as the two contemplated one of the most shocking and horrific crimes of the 20th century. Together, the two men murdered a young classmate and buried his body by the side of a road, all in the desire to commit "the perfect crime."
Patrick Hamilton denies that his 1929 play Rope was inspired by the Leopold and Loeb murder, although how that could be the case is inconceivable. In Rope, two young men conspire to murder a fellow student…for the fun of the thing…and then invite their victim's friends and family to a dinner party where they serve cocktails and hors d'oeuvres off a trunk containing their victim's body. Rope is a chilling story of deception, arrogance, violence and guilt; a story that was so gripping it inspired one of Alfred Hitchcock's greatest cinematic triumphs.
Bag&Baggage, Hillsboro's resident professional theatre company, presents an excruciatingly suspenseful production of this classic thriller throughout October at The Venetian Theatre in downtown Hillsboro. Directed by Guest Director Rusty Tennant (Artistic Director of Portland's Fuse Theatre Ensemble) and starring a cast of celebrated Portland actors, Rope is the second terror-noir production presented by Bag&Baggage to celebrate Halloween, following on from last year's critical smash Dial "M" For Murder.
"I am fascinatedby so many aspects of this play," said Tennant. "Hamilton's use of time, the looming grandfather clock ticking down the seconds like some kind of time-bomb, the constant heightened tension, and the fact that the audience knows who committed the murder from the very first moment; all of these things combine to create a truly powerful and haunting night of suspense."
Rope was written in 1929 and was the author's first theatrical success. The play had some relative success in the West End and on Broadway but it wasn't until 1948 when Alfred Hitchcock famously adapted the play to the screen that Rope truly became recognized as a classic of the thriller genre.
"It isn't just the Hitchcock film that encouraged us to take Rope on," said Scott Palmer, B&B's Artistic Director. "Rope truly is one of the great works of the murder mystery genre and has been an inspiration to generations of writers, directors and filmmakers for nearly a century."
The production stars Trevor Jackson (recently seen as the Prince of York in B&B's Richard III) as Brandon and Nathan Dunking (last seen with B&B as Slim in Of Mice and Men) as Granillo, the two masterminds of the so-called perfect crime. They are joined by B&B newcomers Victoria Blake as Mrs. Debenham, Alec Lugo as Sabot, Joel Patrick Durham as Kenneth, Signe Larsen as Leila, Phillip Rudolph as Sir Johnstone and Michael Tuefel as Rupert Cadell (the role played by Jimmy Stewart in the Hitchcock film). Bag&Baggage Resident Artists Melissa Heller (Costume Design), Molly Stowe (Lighting Design), Megan Wilkerson (Scenic Design), and Emily Trimble (Company Stage Manager and Props Design) round out the creative team.
About the Author: PatrickHamilton
Patrick Hamilton was born Anthony Walter Patrick Hamilton in the Sussex village of Hassocks, near Brighton, to writer parents. Due to his father's alcoholism and financial ineptitude, the family spent much of Hamilton's childhood living in boarding houses in Chiswick and Hove. His education was patchy, and ended just after his fifteenth birthday when his mother withdrew him from Westminster School. After a brief career as an actor, he became a novelist in his early twenties with the publication of Monday Morning (1925), written when he was nineteen. Craven House (1926) and Twopence Coloured (1928) followed, but his first real success was the play Rope (1929, known as Rope's End in America). The Midnight Bell (1929) is based upon Hamilton's falling in love with a prostitute, and was later published along with The Siege of Pleasure (1932) and The Plains of Cement (1934) as the semi-autobiographical trilogy 20,000 Streets Under the Sky (1935).
# # #
Calendar Listings:
ROPE
By Patrick Hamilton
Directed by Rusty Tennant
October 8, 9, 10, 11, 15, 16, 17, 18, 22, 23, 24, 25, 29, 30, 21 and November 1, 2015

The Venetian Theatre
253 E Main Street, Hillsboro 97123
Thurs/Fri/Sat at 7:30pm
Sunday at 2:00pm
Tickets at www.bagnbaggage.org or 503 345 9590
Prices: $18 – $30 (depending on night and seating section)