The Friends of Bag&Baggage are excited to host our first-ever holiday wreath sale this fall.
Enjoy the beauty and fragrance of handcrafted Oregon Evergreens throughout the season, produced by local, family-owned Farmington Gardens!
For $25, you can pre-order a 22″ Mixed Wreath with Bow or a 14″ Tabletop Alberta Spruce Tree to decorate your home for the holidays.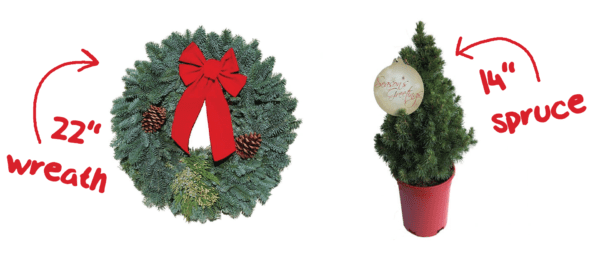 How it works: 
Pre-order your wreath(s) and/or tree(s) by Sunday, October 31, 2021 by clicking the link below.
Pick up your wreath(s) and/or tree(s) at The Vault Theater on Friday or Saturday, November 19 or 20, 2021. Pickup times are 12:00-6:00pm on Friday, November 19th; and 10:00am-2:00pm on Saturday, November 20th. The Vault Theater is located at 350 E. Main St., Hillsboro, OR 97123.
Originally established in January of 2018, the Friends of Bag&Baggage is an inclusive, welcoming community of Bag&Baggage/theatre enthusiasts.  The Friends actively support B&B programs, as well as provide volunteer assistance on a variety of levels.  As such, the mission of the Friends is to:
(1) be in-service to staff leadership
(2) present itself as ambassadors within our community, and at company events
(3) engage in easy, low-level fundraising efforts to support the efforts of Bag&Baggage Productions
(4) have some fun along the way!
In support of the restated Bag&Baggage company values, there are no dues or financial requirements to be part of the Friends of B&B.   Volunteer hours, including meetings, are as valuable as donating money.
The Friends of B&B is actively seeking more voices and more ideas to gather at its table.  The group currently meets once a month and participation can be as much or as little as you are able to give.  Come join us for a session or two and see how we can form a respectful, mutual, and collaborative connection.