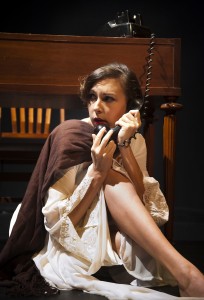 Our friends at the Washington County Museum are presenting a diabolically clever evening of murder and mystery in honor of our upcoming production of Dial M For Murder! Join us on October 15th at the Washington County Museum for a Happy Hour unlike anything you've ever experienced…and join us for a lecture about Washington County's most mysterious unsolved murders!
Wednesday, October 15, 2014
You're the Jury! Dial "M" for Murder in Washington County

6:30 p.m. – 8:00 p.m.

You be the jury as authors Ken & Kris Bilderback explore some of the more mysterious deaths in Washington County history. Some were murders, some were ruled suicides and some were ruled to be the result of bizarre causes. The Bilderbacks will explain the facts, and you'll get a chance to issue a verdict before the official results were announced. Special guest Scott Palmer of Bag & Baggage Productions will present a sneak peek of the Company 's newest production Dial 'M' for Murder. Light refreshments/adult beverages will be served. Click here for a flyer.
CLICK HERE TO BUY TICKETS DIRECTLY FROM THE WASHINGTON COUNTY MUSEUM!