Runs: 12/08/10 — 12/23/10
Opening Night: 12/10/10
Event Time: 7:30pm (Sundays matinees at 2:00pm)
It's the Trial of the Century! A year after his miraculous transformation, Ebenezer Scrooge is back to his old ways and is suing Jacob Marley and the Ghosts of Christmas Past, Present and Future for breaking and entering, kidnapping, slander, pain and suffering, attempted murder and the intentional infliction of emotionaldistress. The ghosts employ Solomon Rothschild, England's most charismatic, savvy, and clever barrister. Scrooge, that old penny pincher, represents himself. B&B company member and audience favorite Maggie Chapin will direct. Marion Rossi, who played Scrooge in 2009's A Christmas Carol, plays him again in this hilarious Carol sequel.
"Like any good sequel, "The Trial of Ebenezer Scrooge" offers a fresh spin on beloved characters, revealing new facets of their personalities while honoring familiar source material. …an inspired continuation of Charles Dickens' 1843 classic "A Christmas Carol". It's a sequel worthy of Dickens' approval." – The Seattle Times
This show also showcases the incredible talents of Theresa Park, Tylor Neist and Ian Armstrong who just finished critically acclaimed performances of a VERY different nature in The Glass Menagerie. These amazing actors will be delivering performances that are so far from the beautifully haunting and tragic characters of Menagerie, it going to be hard to even recognize them. Oh, and they won't just be doing it once – each one plays up to 4 different characters in The Trial of Ebenezer Scrooge. The amazing talent of our actors is just another reason why Bag & Baggage stands out as a not-to-miss theater company.
Cast
The Trial of Ebenezer Scrooge
Chelsie Kinney – Mrs. Wainwright, Mrs. Dilber, Translator
Chelsie is excited to be making her debut with Bag&Baggage Productions! Her recent credits include Elma in Bus Stop and Rosemary in Bullshot Crummond with Mt. Hood Repertory Theatre Company. She has appeared at Lakewood Theatre Company as Thomasina in Arcadia, Eugenie in A Flea in Her Ear, Minnie Fay in Hello, Dolly!, as well as in The Music Man and Where's Charley? Other local credits include Classic Greek Theatre of Oregon's world premiere adaptation of Aristophanes' Peace, Arts Equity's Blood Brothers, and staged readings with Artists Repertory Theatre and Portland Center Stage's JAW/West festival. Chelsie holds a minor in Theatre Arts from Portland State University and has also studied with local artists and The Actors from The London Stage. See her next in January for the Fertile Ground Festival's reading of Food for Thought. She hopes you enjoy the show and the magic of the season!
George Fosgate – Judge Stanchfield Pearson
George is very happy to be making his debut with Bag&Baggage Productions. "Doc" (Ph.D., Theatre) is a retired college prof (U. of Minnesota, Morris). Local acting credits include Sylvia's Class Act, Artists Rep, Mt. Hood Rep., Portland Women's Theatre, Paula Productions, H.A.R.T., Musical Theatre Company, NW Children's Theatre, Tygres Heart, and American Heritage Theatre Project. He was in Tony n' Tina's Wedding for over a year, mostly as Father Mark. Film and TV: principal and featured roles in Final Justice and Take My Advice (Lifetime), Raising Flagg (Rubicon Films), and Strange But True (London Weekend TV), Everyman's War (One-Eighty Films), Howard the Duck, and numerous industrial and commercial videos. Local directing credits: Paula Productions, Theatre In The Grove, and H.A.R.T. He lives in Aloha with his wife, Pat and cat Tony.
Nathan Wright – Mr. Connolly (the Bailiff)
Nathan is ecstatic to be making his debut at Bag&Baggage as well as his debut on the Portland Metro stage, his old hometown. For the past eight years, Nathan has made his home in Helena, MT where he has been in many shows throughout the state. Some of his favorites include: Batboy the Musical, Clue the Musical, The Mystery of Irma Vep, and Who's Afraid of Virginia Woolf. Nathan holds a B.A. in Theatre from Carroll College, Helena. Nathan would like to thank Bag&Baggage for this opportunity, and his friends and family for their love and support.
Theresa Park – Various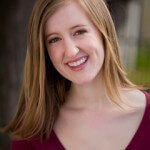 Theresa is excited to be doing her 3rd production with Bag&Baggage. Theresa received her BFA in Theater Performance from Chapman University and was a part of the outdoor Shakespeare group Guerilla Shakespeare in Southern California. Some of her other credits include Jess in the world premier of New Beulah at Chapman University, Mercutio in Romeo and Juliet, and Amy Beth in Life Under Water.
Tylor Neist – Fred, Ghost of Marley
This is Tylor's sixth show with Bag&Baggage, having previously been seen as Jim O'Connor in The Glass Menagerie, Fred in A Christmas Carol, Happy in Death of a Salesman, Lane/Merriman in The Importance of Being Earnest, and The Critic/Aemilia in The Comedy of Errors. He also composed the original violin score for Romeo and Juliet, Bag&Baggage's 2009 outdoor summer Shakespeare production. His feature film debut, Coup De Theatre, is due to be released within the coming months. In addition to acting, Tylor trains actively in Aikido and Brazilian Jiu-Jitsu, as well as keeping his music career pedaling along. As a classically trained musician, with a Masters degree from Manhattan School of Music in violin performance, Tylor is the artistic director of the locally based Red Sneaker project (redsneaker.org) and recently composed and orchestrated two feature film scores.
Dr. Marion O. Rossi, Jr. – Ebenezer Scrooge
Marion O. Rossi is an Associate Professor of Theatre at Oregon State University where he has taught for the last sixteen years. Marion teaches a wide variety of theatre subjects including performance (acting and directing), script analysis, and theory/criticism. He has directed over thirty productions at OSU, most recently the classic Hart & Kaufman comedy You Can't Take It With You and the world premiere of John Frohnmayer's original musical, Spin. In September of 2009 Marion joined Bag&Baggage as a guest artist for its production of Death of a Salesman, playing Willy Loman; in December of that year he trod the Venetian stage as Ebenezer Scrooge in the B&B adaptation of A Christmas Carol. Most recently (September of 2010) Marion directed the Bag&Baggage production of The Glass Menagerie. He is married to the loveliest of the lovely, Kim, with whom he shares five cats, 'Douille the Dachshund, and Rocky, a really cool turtle.
Cory Huff – Solomon Rothschild
Cory is overjoyed to be a part of his first show with Bag&Baggage. Portland credits include: Portland Story Theatre's Urban Tellers Festival, Michael in Tragedy: A Tragedy with Fuse, and Demetrius in Titus Andronicus at Northwest Classical Theatre.
Crew
Alan E. Schwanke – Scenic Designer
Regionally, Alan's design work has been seen in the Chicago Shakespeare Theatre, the Milwaukee Repertory Theatre, Theatre at the Center in Indiana, the Spokane Opera Company and the Artist's Laboratory Theatre. In the Pacific Northwest, Alan has designed for theatres such as the Third Rail Repertory Theatre, The Salem Repertory Theatre, Bag&Baggage Productions, The Lakewood Theatre Company and the Broadway Rose Theatre Company. Various honors include the 2010 Award for "Outstanding Scenic Design" from the Oregon Theatrical Awards Society, a nomination for "Outstanding Scenic Design" from the Portland Area Musical Theatre Awards, participant and presenter at the 2008 USITT Young Designer's Forum, and Ming Cho Lee's Clambake Portfolio Review. Alan earned his MFA in Scenic Design from Northwestern University in Chicago and his BFA in Theatre Design and Technology from the University of Central Oklahoma. Alan resides in Ashland, Oregon as the Assistant Scenic Designer for the Oregon Shakespeare Festival. Visit www.aeschwanke.com for more information.
Allison Dawe – Costume Designer
Allison is a local costume designer and freelance seamstress. She has designed and worked on productions at Artists Repertory Theatre, Lakewood Theatre, Broadway Rose Theatre Company, and Bag&Baggage Productions. Some of her favorites include Death of a Salesman (Bag&Baggage), Celebrate Home: a Broadway Rose Christmas, which earned her a Portland Area Musical Theatre Award nomination for best costume design, and Quake (Western Washington University), for which she received an honorable mention for design at the Kennedy Center American College Theatre Festival in Washington DC. Allison received her BA from Western Washington University's Fairhaven College in Costume Design and Theatrical Crafts.
Audra Petrie – Production Manager, Props Master
Audra has been B&B's Production Manager since the start of the 2008-2009 season.  She has also stage managed numerous Bag&Baggage shows in the past – most recently the 2009 A Christmas Carol. Audra has done other stage management work for CoHo Productions, Salem Repertory Theatre, and Willamette University. Audra also enjoys dabbling in props work.  Besides this show, her prop credits at Bag&Baggage include: Educating Rita, Taming of the Shrew and The Woman's Prize, A Christmas Carol, Death of A Salesman, Romeo and Juliet, The Importance of Being Earnest, The Comedy of Errors, and Steel Magnolias.
Becci Swearingen – Stage Manager
Becci is thrilled to be Stage Managing another show with Bag&Baggage! She holds a Bachelor of Arts in Theatre Arts and Music from Culver-Stockton College in Canton, Missouri and a Masters Degree in Theatre Arts from Portland State University in Portland, Oregon. She has been acting, directing and stage managing for over a decade and has been blessed to be able to work so consistently in this art form she loves above all others. Some of her favorite past productions have been: Little Shop of Horrors, Impossible Marriage, Mame, The Fantastiks, You're a Good Man, Charlie Brown, Ursula: Fear of the Estuary, Electra, Dancing at Lughnasa, Burn This, Women and Wallace, and Proof.
Carl Hamilton – Assistant Scenic Designer; Scenic Painter
Carl B Hamilton received his MFA in scenic design from The University of South Carolina in 2009. Since graduating, Carl has been freelance designing primarily based in the Northwest. While at USC he had the pleasure of designing Oh What A Lovely War, which has been selected to be exhibited at the upcoming Prague Quadrennial in 2011. He has worked in London as Projection Designer on The Great Game which has since traveled to America and performed at Shakespeare in DC, The Skirball Theatre in NYC, The Guthrie, and Berkeley Rep. His previous design credits include The Cherry Orchard Sequel at La Mama Theatre in NYC, Othello which performed at the Kennedy Center in Washington D.C. in 2005, Oh What a Lovely War a 2007 USITT selection of excellence in design, Big Love, The Skin of Our Teeth, Fen ,The Pillowman, and A Cabal of Hypocrites.
Demetri Pavlatos – Technical Director/Master Builder
This is Demetri's first full season as Bag&Baggage's Technical Director. He is also the Technical Director for Profile Theatre Company and Third Rail Repertory Theatre, works with the theatre students at Saint Mary's Academy, and is the owner of Lunar Theatrical, a small set construction and technical services company. Demetri has recently worked with Stumptown Stages, Broadway Rose Theatre Company, and Pixiedust Productions.
Jonathan "Bearclaw" Hart – Lighting Designer
Jonathan is in his second year of living in Oregon and is glad to be working with Bag&Baggage. Jonathan received his MFA in lighting design and technical direction from the University of South Dakota and brings lighting design experience from over 100 shows. His most recent designs were for The Rocky Horror Picture Show, Into the Woods, The Complete Works of Shakespeare (Abridged), and A Midsummer Night's Dream. You can also see his work for the Broadway Rose Theatre Company where he acts as their year-round Technical Director. He would like to thank his family and friends for their ongoing support.
Kirk Webster – Assistant Stage Manager
Kirk has been working in, with and for theatres for 11 years. His experience and curiosity has taken him from onstage to backstage, from House manager to stage hand, and to lighting and sound. He worked in Corvallis for 3 years as a technical "everyman" but has spent the last few years without a theatre to call home and is now excited to be Assistant Stage Managing in his second production for Bag&Baggage.
Maggie Chapin – Director
As a founding company member Maggie has filled many different roles on- and off-stage for Bag&Baggage, and she is thrilled to add "Director" to that list. For the past four summers, she has been Assistant Director / Voice Coach for outdoor Shakespeare productions for Bag&Baggage and OSU. Directing The Trial of Ebenezer Scrooge was just the next great challenge, and she is grateful for the incredible opportunity. B&B audience members will remember her from her numerous roles with the company; last season's roles were Rita in Educating Rita, Kate & Maria in B&B's world premiere adaptation of Taming of the Shrew & The Woman's Prize, an ensemble member in A Christmas Carol, and Linda Loman in Death of a Salesman. Maggie has a BA in Theatre Arts from Western Oregon University and an MFA in Theatre Performance from the University of Nevada, Las Vegas.
Playwright
no playwright information available