Runs: 05/11/11 — 05/29/11
Opening Night: 05/13/11
Event Time: 7:30pm (Sunday matinees 2:00pm)
Tickets: Adult: $21-23, Stu/Sen: $16-18, Previews: $12 all seats; $1.50 per ticket fee on all tickets
In The Mystery of Irma Vep, playwright Charles Ludlam managed to parody at least a dozen literary and cinematic paragons, including Joyce, Wilde, Poe and Ibsen (the play steals its opening lines directly from Ghosts), classic horror movies, Gaslight, Wuthering Heights, Gothic novels and the movie Rebecca, which provides the basic plot points. Two intrepid actors portray eight characters, changing identities at lightning speed. New York Times critic Clive Barnes told his readers not to read his review, just to buy tickets…we recommend you do the same.
In 1991, Irma Vep was the most produced play in the United States; and in 2003, it became the longest-running play ever produced in Brazil.
From the Director
"Author Charles Ludlum loved classic literature and enjoyed honoring it through hilarious spoof intended as an homage. Imagine Wuthering Heights, Hitchcock's Rebecca, The Mummy's Curse, Macbeth, Dracula, Frankenstein, The Wolfman… all thrown in a blender on frape funny. It's melodrama, drag, mystery and a bit of magical mayhem, all from just two actors changing costumes like lightning." – Patrick Spike
Cast
Jason Glick – Nicodemus Underwood, Lady Enid, Alcazar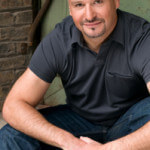 Jason is thrilled to be making his debut at Bag&Baggage with such a fun play and sharing it with such incredibly talented people! (thanks Scot, Spike, and crew!) He is from the Chicago area but has called Portland home for almost 2 years. During that time, he has been seen at Clackamas Repertory Theatre, Fuse, and at Fertile Ground Festival. He is currently touring with Jewish Theatre Collaborative as well. Favorite past roles include Charles in An Infinite Ache, Baker in Into the Woods, and Biff in Death of a Salesman. Love to Diane for being the best mother a father could ask for, a great friend, and for putting him on the right path; Kirsten for making him feel like he is the man he strives to be; and Ethan for being the inspiration and motivation for all of it. Stay true to yourself.
Scot Carson – Lord Edgar, Jane, an Intruder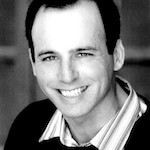 Scot Carson was last seen as Macbeth in B&B's production of Macbeth, and is looking forward to being Prospero in The Tempest. His most recent regional work was two seasons with the American Shakespeare Center. On tour, and in residency at the Blackfriars Playhouse in Staunton, Virginia. Roles including; Sly/Gremio, Antonio, Exeter, Ghost/Player king, Duke of Ephasus/Dr. Pinch, Fezziwig/Topper. He has worked locally with NWCTC, Tygres Hart, American Heritage Theatre Project, NW Children's Theatre, Classical Greek Theatre, Magdalene, PAC (Guest Artist). Roles including, but not limited to; Berowne, Apemantus, Talbot, Brutus, Gremio, King of France, The Duke in Big River, The Mad Hatter, Talthybius, Polyneices, Horatio. He holds a BA in Theatre Arts from OSU. He wishes to thank his wife Kate, and daughter Ella, for their love and support and awesomeness.
Crew
Patrick Spike – Director
Known as Spike to those close to him, has been directing since 1986 up and down the west coast. Somewhat of a veteran to the camp style, past campy projects have included Greater Tuna,Return to the Forbidden Planet, Angry Housewives and Vampire Lesbians of Sodom. Other past favorites include The House of Blue Leaves, Romance/Romance, Social Security, and of courseEducating Rita here at Bag&Baggage. Spike will also be directing next season's spring production of Dangerous Liaisons on the Venetian stage. He also had the distinct pleasure of being one of four professional directors invited to participate in Portland Center Stage's first Commission/Commision event, working with world class authors. Spike is also a performer, most recently seen as Lady Bracknel in B&B's production of The Importance of Being Earnest, a performing arts administrator, fundraiser, marketer, consultant and more. He is current a members of B&B's board of directors as Audience Development Director. Spike is Director of Client Services for Ticket Turtle, which provides patron management systems to performing arts organizations all over the US and Canada. He'd like to dedicate this production to the late Alton Grimes, his own Lady Enid in the production of Irma Vep they performed together.
Carl Hamilton – Scenic Designer
Carl received his M.F.A. in scenic design From The University of South Carolina in 2009. Since graduating Carl has been a freelance designer primarily based in the Northwest.While at USC he had the pleasure of designing Oh What A Lovely War, which has been selected to be exhibited at the upcoming Prague Quadrennial in 2011. He has worked in London as Projection Designer on The Great Game which has since traveled to America and performed at the Shakespeare in DC, The Skirball Theatre in NYC, The Guthrie in Minneapolis, and Berkeley Rep. His previous design credits include The Cherry Orchard Sequel at La Mama Theatre in NYC, Othello which performed at the Kennedy Center in Washington D.C. in 2005, Oh What a Lovely War a 2007 USITT selection of excellence in design, Big Love,The Skin of Our Teeth, Fen ,The Pillowman, and A Cabal of Hypocrites.
Allison Dawe – Costume Designer
Allison is a local costume designer and freelance seamstress. She has designed and worked on productions at Artists Repertory Theatre, Lakewood Theatre, Broadway Rose Theatre Company, and Bag&Baggage Productions. Some of her recent costume design credits include Macbeth, The Trial of Ebenezer Scrooge, and The Glass Menagerie (Bag&Baggage), Joseph and the Amazing Techicolor Dreamcoat (Broadway Rose Theatre), andThe Hollow and Sweet Charity (The Lakewood Theatre). Allison received her BA from Western Washington University's Fairhaven College in Costume Design and Theatrical Crafts. Find out more at www.allisondawe.com.
Jonathan "Bearclaw" Hart – Lighting Designer
Jonathan is in his second year living in Oregon and is glad to be working with Bag&Baggage. Jonathan received his MFA in lighting design and technical direction from the University of South Dakota and brings lighting design experience from the many shows he has done. He recently designed The Trial of Ebeneezer Scrooge here with Bag& Baggage and is excited to be working on this wonderful production of The Mystery of Irma Vep. You can also see his work for the Broadway Rose Theatre Company where he acts as their Technical Director and occasional lighting designer. He would like to thank his family and friends for their ongoing support.
Sarah Lydecker – Props Master
Sarah is a Texan designer and freelance artist who recently moved to Portland. Sarah has collaborated with Miracle Theatre Group, Hand2Mouth Theatre, Theatre Vertigo, Bag&Baggage Productions, and the Jewish Theatre Collaborative, among others. A graduate of Willamette University with a BA in Art History, Sarah currently works as a scenic artist for R.A. Reed Productions.
Demetri Pavlatos – Technical Director/Master Builder
This is Demetri's first full season as Bag&Baggage's Technical Director. He is also the Technical Director for Profile Theatre Company and Third Rail Repertory Theatre, works with the theatre students at Saint Mary's Academy, and is the owner of Lunar Theatrical, a small set construction and technical services company. Demetri has recently worked with Stumptown Stages, Broadway Rose Theatre Company, and Pixiedust Productions.
Becci Swearingen – Stage Manager
Becci feels blessed to be stage managing yet another show for such a wonderful theatre company as Bag& Baggage! She holds a Bachelor's of Arts in Theater Arts and Music from Culver-Stockton College in Canton, Missouri and a Master's Degree in Theater Arts from Portland State University in Portland, Oregon. She has been Acting, Directing and Stage Managing for over a decade and has been blessed to be able to work so consistently in this art form she loves above all others. Some of her favorite past productions have been: Love Letters, The Trial of Ebenezer Scrooge, The Glass Menagerie, Little Shop of Horrors,Impossible Marriage, Mame, The Fantastiks, You're a Good Man, Charlie Brown, Electra, Dancing at Lughnasa, Burn This, Women and Wallace, and Proof. Enjoy the show!
Kirk Webster – Assistant Stage Manager
Kirk has been working in, with and for theatres for 11 years. His experience and curiosity has taken him from onstage to backstage, from House manager to stage hand, and to lighting and sound. He worked in Corvallis for 3 years as a technical "everyman" but has spent the last few years without a theatre to call home and is now excited to be Assistant Stage Managing in his third production for Bag&Baggage.
Sarah Layton – Assistant Stage Manager
Sarah is a graduate from Pacific University where she received her B.A. in Theatre. She stage managed three of her four years at Pacific, shows including The Laramie Project and the world premiere of Rubber 'n' Glue, written and directed by Matthew B. Zrebski. Sarah was also a co-producer for Pacific's LunchBox Theatre, a student-run, student-produced lunchtime show. At the end of her schooling at Pacific she received the Barbara Story Award for Outstanding Contribution to the Theatre Department. Sarah has a great love of the theatre and is excited to be joining Bag&Baggage for a third time after having recently worked onMacbeth and last year's summer production of Twelfth Night.
Anni Reilly – Production Intern
Matt Kishlock – Production Intern
Playwright
Charles Ludlam
Ludlam founded the Ridiculous Theatrical Company in New York City in 1967. His first plays were considered by some to be undeveloped exercises: however, starting withBluebeard he began to write more structured works, which, though they were pastiches of gothic novels, Shakespeare, Wagner, popular culture, old movies, and anything else that might get a laugh, had more serious import. Theater critic Brendan Gill after seeing one of Ludlam's plays famously remarked, "This isn't farce. This isn't absurd. This is absolutely ridiculous!". Ludlam usually appeared in his plays, and was particularly noted for his female roles. He wrote one of the first plays to deal (though tangentially) with HIV infection; he was diagnosed with AIDS in March 1987. He died of PCP pneumonia in St. Vincent's Hospital, New York. The street in front of his theatre in Sheridan Square was renamed "Charles Ludlam Lane" in his honor.
Ludlam had taught or staged productions at New York University, Connecticut College for Women, Yale University, and Carnegie Mellon University. He won fellowships from the Guggenheim, Rockefeller and Ford Foundations and grants from the National Endowment for the Arts and the New York State Council on the Arts. He won four Obie Awards, the last one 2 weeks before his death, and won the Rosamund Gilder Award for distinguished achievement in the theater in 1986.
His most popular play, and the only one to enter the standard repertory, isThe Mystery of Irma Vep, in which two actors manage, through a variety of quick-change techniques, to play all the roles in a send-up of gothic horror novels. The original production featuring Ludlam and his lover Everett Quinton was a tour de force. In order to ensure cross-dressing, rights to perform the play include a stipulation that the actors must be of the same sex.
Considering bringing children to Irma Vep?
What Parents Need to Know:
The Mystery of Irma Vep is a farcical comedy that borrows from Victorian melodrama, monster movies, Sherlock Holmes, and German expressionist films. It is a fast paced farce, and is not intended to be performed as a piece of realism. The play is performed by two actors who constantly cross dress as they change from character to character, and has often been described as "camp" or "drag." The play is a comedy and does include sexual innuendo and scenes/circumstances of a sexual nature.We consider this production to be appropriate for age 13 and over.
What parents and families can discuss:
The play is a farce and was written to make fun of, or mock, a number of famous literary styles and figures. The play is full of literary references and allusions to famous work, includingHamlet, The Mummy, Dracula, Frankenstein, Sigmund Freud and Henrik Ibsen. Parents can discuss the nature of farce and how students feel about a play that makes fun of famous literature and figures. The production is also an excellent show for parents to use as an example of the technical challenges of theatre; quick changes, special effects, characterizations and acting styles.