Shakespeare's tale of star-crossed lovers has been described as "timeless"…perhaps more so than most people think!
There is ample evidence to suggest that one of the main literary sources for the Bard's story of feuding families comes from a 12th Century Persian tale called Layla & Majnun. In Nizami's epic poem, two "star-crossed lovers" rebel against the edicts of their parents, embrace their forbidden love, and pay the ultimate price.
"Her parents' home had become her prison. Guarding the secret of her love, which must not be revealed, she waited, listening to the wind, as it lovingly caressed her tent, hoping it might bring a message from her beloved…"  – Layla & Majnun
Sound familiar?
In this world premiere adaptation, B&B fuses the romantic, haunting poetry of Nizami's Layla & Majnun into Shakespeare's Romeo & Juliet, re-imagining the Bard's tragic lovers in 12th Century Persia during the time of Emperor Constantine.
A timely and powerful exploration of clashing cultures, unrepentant love, and unreasoning hate – and the deep ties that bind us all – performed outdoors at the Tom Hughes Civic Center Plaza in downtown Hillsboro.
July 20, 21, 22, 27, 28, 29, and August 3, 4, and 5, 2017
The Civic Center Plaza, 150 E Main Street, Hillsboro
Thursday, Friday, and Saturday at 7:30pm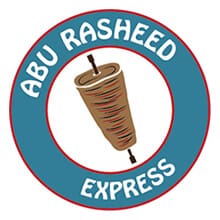 Thanks also to our friends at Abu Rasheed Express Mediterranean food, located at the corner of 3rd and Main in downtown Hillsboro, for their generous sponsorship! Abu Rasheed is the PERFECT place to pick up dinner before the show!