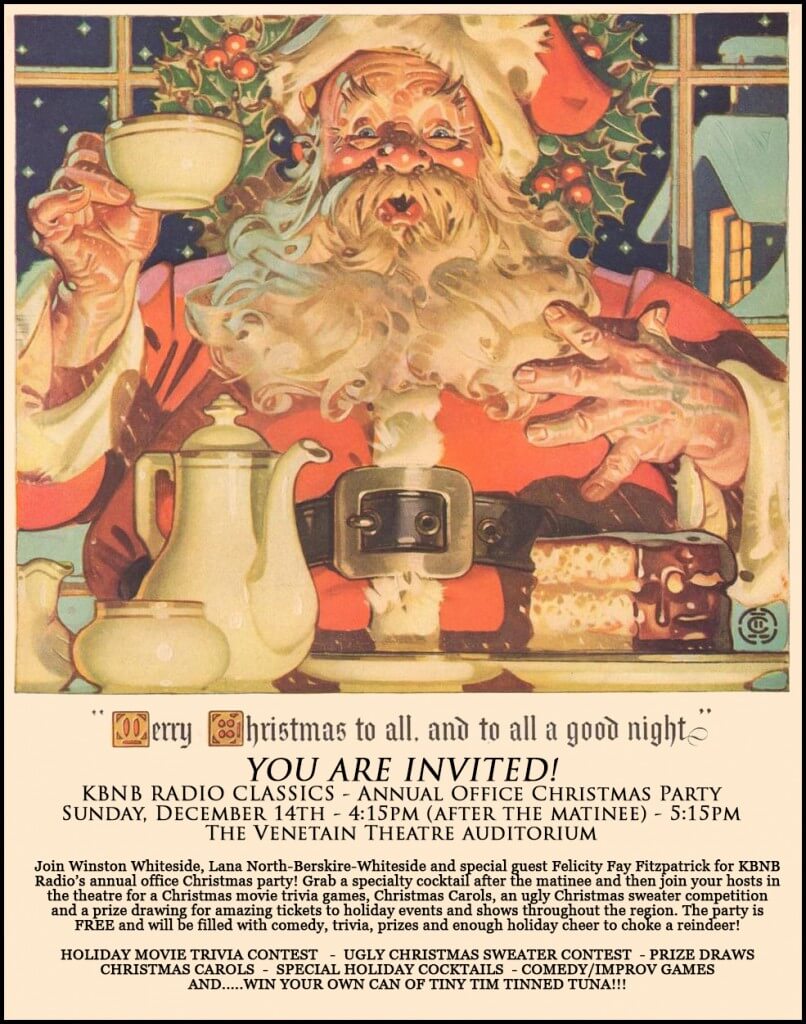 Winston Whiteside, Manager of KBNB Radio Classics, invites YOU to the radio station's annual Christmas Party!
Join the cast of KBNB's Miracle on 43rd Street for an afternoon of holiday movie trivia, prize draws, Christmas Carols, improv comedy, an ugly Christmas sweater contest and enough holiday cheer to choke a reindeer!
Sunday, December 14th
4:15pm – 5:15pm (right after the Sunday matinee)
The Venetian Theatre Auditorium
This is a FREE event, and all are welcome!
The Venetian will be brewing up some fabulous 1940s cocktail specials for the event so you will be sure to have a hilarious holiday time!
The event includes:
Wear your ugliest Christmas sweater and receive a free prize draw ticket and, just possibly, a prize for your terrible taste in winter wear!
Join your friends in a holiday movie trivia contest where the top four contenders get to participate in a live, on-stage lightning round to win some incredible prizes
Get a prize draw tickets to win tickets to a number of holiday events throughout the region, bubbly and wine and your very own can of "Tiny Tim Tinned Tuna!"
In between trivia rounds, the cast of KBNB Radio Classics will engage the audience in some hilarious holiday improv comedy games
All proceeds from the prize draw go to support B&B's End of the Year Giving Campaign
This is a free event, so no reservations are required!