Bag&Baggag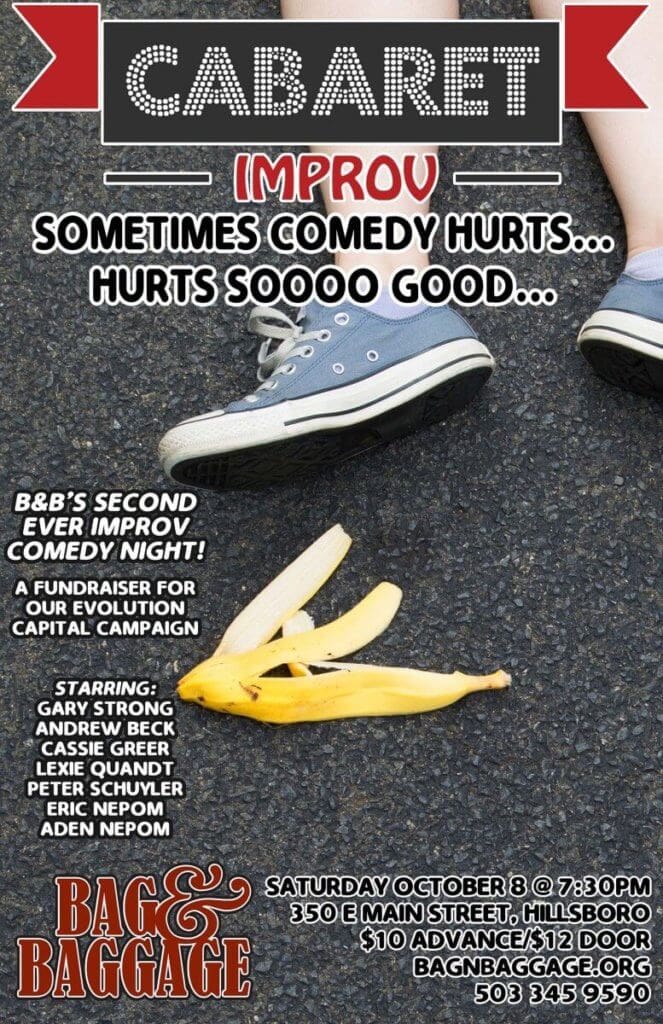 e presents our second ever Improv Comedy Night! The first one wasn't too bad, we figured we try it again and see if any of you suckers want to cough up some cash for our EVOLUTION campaign! Neat!
CABARET IMPROV is part of our ongoing series of cabaret style events – remember Cabaret Cupid? Cabaret Coward? Well, this one is supposed to be funny! Starring some of B&B's most hilarious actors, alongside hysterical guest artists, CABARET IMPROV is a night of comedy sports-style improvisation comedy games…as a fundraiser in support of our EVOLUTION capital campaign.
Sometimes comedy hurts….hurts so good!
October 8, 2016 at 7:30pm
350 E Main Street, Hillsboro OR 97123
$10 in advance or $12 at the door
Extremely Limited Seating!
This event's line-up of schmucks includes:
Gary Strong
Andrew Beck
Cassie Greer
Lexie Quandt
Peter Schuyler
Eric Nepom
Aden Nepom