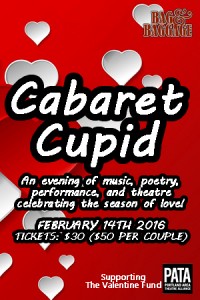 Bag&Baggage Productions, Hillsboro's resident professional theatre, is proud to present the third annual celebration of Valentine's Day; Cabaret Cupid, an evening of song, dance, comedy and performance featuring some of the region's most celebrated artists and performers!
The event will take place on Sunday February 14th, 2016 at 7:30pm at The Venetian Theatre and will include more than 2 hours of dance, opera, music, comedy, poetry, monologues and performances selected specifically to celebrate love and romance.
This year's event is presented in partnership with the Portland Area Theatre Alliance and their Valentine Fund- The Valentine Fund was initiated in 1987 to provide financial assistance to members of the Portland-area theatre community in times of medical or personal emergency.  PATA is proud to have supported our artists in times of need for more than 27 years. The Valentine Fund is made possible by donations from the community, businesses, and PATA members.  PATA holds an annual fundraising drive and accept donations throughout the year. 
"Last year's event was a huge success," said Scott Palmer, B&B's Artistic Director. "And we are thrilled that so many new performers are joining us for this third year, in part to support The Valentine Fund."
Tickets are $30 each or $50 per couple.