Bag&Baggage Celebrates The Life and Work of Robert Burns, The National Poet Of Scotland, In Third Annual Burns Night Supper – Saturday, January 28, 2017
HILLSBORO, OR – Bag&Baggage Productions, Hillsboro's resident professional theatre, is celebrating the life and poetry of the other great British Bard, Robert Burns, with a traditional Burns Night Supper. The event takes place on Saturday, January 28th, 2017 at Meriwether National Golf Club in Hillsboro.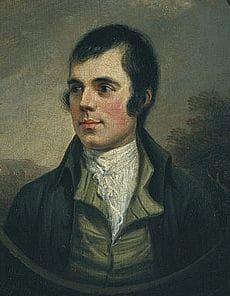 Burns Night is a traditional Scottish holiday celebrating the life, times, and poetry of Robert (Rabbie) Burns. The Bag&Baggage event will follow Scottish tradition by featuring a live bagpiper, drams of whiskey, and a traditional Scottish meal including cock-a-leekie soup, neeps and tatties, bangers and mash, sticky toffee pudding and, of course, haggis. There will also be a small silent and live auction selection.
Scott Palmer, Artistic Director of Bag&Baggage, lived in Scotland for more than 6 years  and said, "As someone who lived in Scotland, Burns Night has become an important holiday for me. Robert Burns was a remarkable man and poet, and this event not only celebrates his legacy but also celebrates Scottish culture and history."
Guests will be "piped in" to the event and will also be entertained by performances by B&B resident actors of Burns poetry and contemporary Scottish poetry. In addition, singers from the Oregon Chorale will perform a range of Scottish songs, including The Rose of Scotland and Auld Lang Syne.
"Our guests will have the chance to enjoy some truly wonderful old Scottish traditions," said Peter Schuyler, Bag&Baggage Resident Actor, who be reading Burns' great poem Address To The Haggis and the Selkirk Grace. "Burns Night is more than just a celebration of Burns, it is a celebration of all things Scottish."
Tickets for the event at $80 and include entertainment, a traditional Burns Night Supper, and a dram of tasting whiskey. A cash bar featuring a range of scotches, wines and beers is also available. The event begins at 5:00pm on January 28th, 2017 and tickets must be purchased in advance. Tickets can be purchased online at www.bagnbaggage.org or by calling the box office at 503 345 9590.
# # #
Calendar Listings:
Burns Night Supper
Saturday, January 28, 2017 at 5:00pm
Meriwether National Golf Club, 5200 SW Rood Bridge Road, Hillsboro
Tickets: $80 per person
Box Office: 503 345 9590 or online at www.bagnbaggage.org