The 2015 Annual Gala Dinner and Auction
Saturday July 11, 2015
Oakwood Gardens
11785 SW River Road
Hillsboro, OR
Tickets: $85
Over the past 7 years, our Annual Gala and Dinner event has grown into one of the most exciting, stylish and entertaining summer events in Hillsboro – helping B&B raise thousands of dollars to support our innovative free ticket program for local high school students.
This year, our Gala Dinner and Auction event grows even more glamorous, even more delicious and even more FUN!
Join us and hundreds of your fellow B&B supporters for A FEAST FOR OBERON, an enchanted, Midsummer Night's Dream themed night of incredible food, delicious wines and amazing auction packages…all to support our free ticket program, PASSPORT!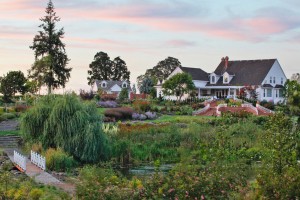 About Our Venue:
Oakwood Gardens is a 70 acre ranch (home of Northwest Alpacas) in the lush Willamette Valley just a few minutes outside of Hillsboro. The seven acres of gardens have an old world ambiance and feature a walled "white garden" with pergola, a French potager surrounded by an English cottage garden, a Christmas pergola cloaked in red clematis, formal beds surrounding the house, a three-tiered koi and water lily pool and a massive nature pond and picturesque waterfall…over the bridge is a sanctuary garden with a reflecting pool and an Amish style wedding gazebo…The gardens are stunning and are the perfect backdrop for our annual Gala Dinner and Auction!
Find out more about Oakwood Gardens online at www.oakwood-gardens.com!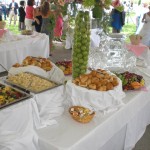 About Our Caterers
Claeys Catering has more than 30 years of experience in the Hospitality and Food Service Industry. Jim Claeys, owner of Claeys Catering, was an executive chef for Horst Mager Restaurants and a Guest Chef for The Town Club. Fresh ingredients, recipes from scratch, and superb presentation are the hallmarks of Claeys Catering. Find out more about them online at www.claeyscatering.com!

The Menu
Passed appetizers, including:
– Savory crackers with an olive and red pepper tapenade (vegan)
– Caprese skewers with balsamic drizzle (gluten free)
– Crab cakes with jalapeno aioli
Family-style Dinner Service, including:
– fresh mixed heritage greens salad with watermelon, feta cheese, roasted hazelnuts and a balsamic glaze with baked rustic breads
– Chicken Marabella (roasted chicken pieces marinated in olive oil, vinegar, prunes, olives, capers, brown sugar and white wine
– Vegetarian entree: baked tomatoes with quinoa, corn and green chiles
– grilled & chilled marinated vegetables
– black bean, roasted corn, pepper, onion, cilantro and avocado mix with lime dressing
-fresh strawberry shortcake with fresh whipped cream
All guests will receive a complimentary glass of wine upon arrival and wine on the table for dinner. Wine is also available for purchase throughout the evening.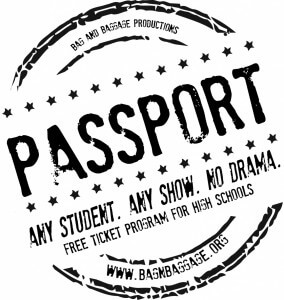 About Our New PASSPORT Program
At Bag&Baggage, we believe every student can benefit from being involved in the performing arts. Rigorous research has taught us that the value of theatre is priceless — it can help our children improve reading and language skills, explore complex social and philosophical questions, develop a lifelong appreciation for the arts and build connections within our community.
But, as school district budgets across the region tighten, we also know that arts programs are often the first to be cut… Bag&Baggage wants to ensure that every student has the chance to experience high quality, professional performing arts….we have risen to the challenge with PASSPORT: Any Student, Any Show, No Drama.
The program is simple: Any student from any high school in Washington, Tillamook, Yamhill or Columbia county can show up to any regularly scheduled B&B performance, show a valid student id card and receive a free ticket – no questions asked. It is just that simple.
Every dollar raised during the 2015 Annual Gala Dinner and Auction goes to support PASSPORT!