DUE TO COVID-19, B&B HAS TEMPORARILY SUSPENDED THE EMERGING ARTIST PROGRAM.
IN THE MEANTIME, LEARN MORE ABOUT THE PROGRAM BELOW!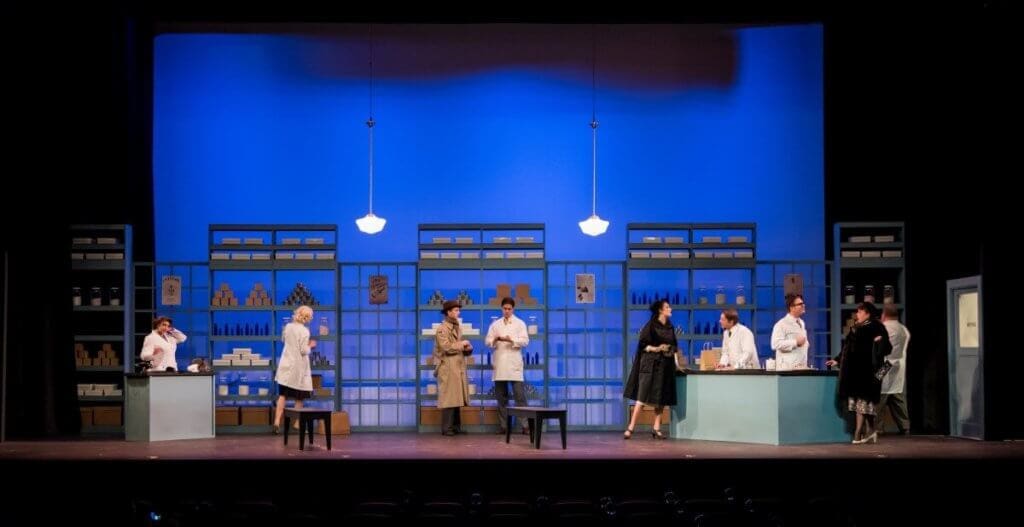 ABOUT BAG&BAGGAGE
Located in the heart of downtown Hillsboro, Oregon (just 20 miles west of Portland), Bag&Baggage is a regionally and nationally acclaimed mid-sized professional theatre with a 12 year history of producing innovative, provocative retellings of classic English and American drama. B&B is one of two professional theatre companies in Washington County, and is the largest cultural non-profit in Hillsboro. In early 2017, B&B will take ownership of our own studio-style theatre space: a permanent home for a company with deep roots in Hillsboro and a commitment to ensuring our community has access to the highest quality theatre right here where they live, work, and play. The new space will be our performance home (with a flexible studio-style theatre with a maximum of 165 seats), as well as a bar, administrative offices, costume and prop storage, and shop space. The new building will also be available for outside rentals and for use by other arts organizations. B&B produces a season of 6 shows annually during a 10 month season, beginning each summer with an outdoor Shakespeare followed by five indoor productions that follow a standard schedule: an American classic, a Halloween-themed show, a holiday show, an adaptation, and an English classic.

ABOUT THE PROGRAM
This is a 10-month-long program, lasting from August to May, and requires a commitment of 20 hours per week. Each class of Emerging Artists (EAs) will play an essential role in B&B operations. Working in every facet of the organization, these EAs learn standards of professionalism while building their resumes and portfolios and forging connections within the broader theater community.
Our program offers emerging theater artists a bridge between their training and the profession of theatre, developing each individual's skills by working alongside world-class designers, administrators, directors, and other experts. EAs will not only learn a huge number of skills, they will also be key members of our staff and the B&B family.

AS A B&B EMERGING ARTIST YOU WILL…
Develop marketable skills and create contacts for future employment.
Work a flexible 20 hour per week schedule.
Attend weekly 2-hour workshop training experiences.
Benefit from working directly with our resident staff, in addition to visiting professional artists and specialists brought in specifically to advance your training.
Receive complimentary tickets to Bag&Baggage shows.
Receive a $100 per month travel stipend.

EXPERIENCE AREAS
Each Emerging Artist will be responsible for designing sound for one production during the season. Working directly with the Artistic Director and Production Manager, each EA will develop and implement a complete sound design (walk in music, scenic transitions, special sound effects, etc) for the show and will receive a credit as a Sound Designer for that production. Responsibilities include programming cues, assisting with load-in, troubleshooting problems during tech rehearsals, maintenance of audio equipment during the run of productions, and participation in all strikes and changeovers. During production runs, the Sound Designer will maintain the show and ensure sound design implementation by crew.
Each Emerging Artist will be assigned as Props Master/Designer for a mainstage show during the season. The Props Master/Designer will work with the Stage Manager and Director in creating, building, and/or sourcing all props for the show, and will have the opportunity to talk through designer visions and assist in shopping and decorating. Duties may include creating prop lists, attending design meetings, pulling rehearsal props, and research. Additional responsibilities include coordinating props rentals and maintaining inventory. EAs will receive credit as Properties Master/Designer for their assigned production. 
Each Emerging Artist will work as an Assistant Stage Manager for one mainstage show during the season. Working with B&B's Stage Manager, Emerging Artist ASMs will begin during the stage manager's prep week, assist in daily rehearsals, work backstage during shows, and potentially run select shows through closing performances. The ASM will be assigned responsibilities such as tracking props, costumes, or sets, or making script revisions. EAs will receive credit as an Assistant Stage Manager for their assigned show.
Each Emerging Artist will work closely with the Artistic Director, Associate Artistic Director, or Guest Director in the creation, preparation, and implementation of unique Dramaturgical Context Plans for one mainstage show. Dramaturgs will create original dramaturgical materials, including program notes, talk-backs and afterwords, book groups, reading lists, and lobby display materials. EAs will be given credit as the Dramaturg for their assigned production.
All Emerging Artists will work as members of the scene shop staff to construct and install scenic elements for productions. Using essential carpentry and construction skills, EAs learn daily shop operations while gaining hands-on backstage experience in a professional environment. EAs will work directly under the supervision of B&B's Technical Director and Production Manager and will receive credit as Scenic Design Crew/Assistant for those productions.
Working directly with the Costume Designer, each Emerging Artist will assist in the sourcing and construction of costumes for one mainstage production. They also serve as wardrobe crew, which includes maintaining and repairing costumes and wigs during the run of each show. EAs will likely handle some aspects of costume design from inception to completion; for example, designing, creating, or sourcing full character costumes. Through collaboration with the Costume Designer, EAs will strengthen sewing, construction, draping, and patterning skills, as well as wardrobe management. They also have the opportunity to learn about design budgeting and planning. EAs will receive a Costume Design Assistant credit for their assigned show.
Emerging Artists will play a large role in B&B's educational programming, including the creation of a school-appropriate production to be produced in during the 17-18 season. Working directly with the Associate Artistic Director, all EAs will be asked to develop a "Curriculum Guide" for one of our main stage shows (in conjunction with work as a dramturg on that production), and assist in the planning, implementation, and operations of our educational outreach work; this includes developing and conducting workshops, classes, pre-show and post-show lectures, and other engagement projects with local students. EAs will work directly with local schools to coordinate and host student matinees.
Emerging Artists will receive extensive workshop training related to acting skills, including voice, movement, script analysis, and improvisational skills. All EAs will be invited to participate in B&B Cabaret events, such as improv comedy nights, poetry readings, rehearsed play readings, or others. There will also be opportunities to develop and perform work for children. Workshops will be provided by a range of acting teachers, including B&B Resident and Associate Artists and guests.
RETAIL/BOX OFFICE/CONCESSIONS
All Emerging Artists will receive workshop training and hands-on experience related to running a box office, engaging in retail sales, and managing concessions. B&B's new venue will have a bar and concessions area, and EAs will get their OLCC card, act as bar staff, sell tickets to shows directly to the public, and manage the concessions area for mainstage shows. EAs will also have the opportunity to earn tips in addition to an hourly rate for outside event rentals, as available.
All Emerging Artists will receive workshop training and hands-on experience related to marketing, promotion, and outreach. Each EA will be assigned duties related to social media, marketing, and audience outreach for one mainstage show during the season. Working alongside B&B marketing staff, EAs will develop marketing campaign calendars, content support for marketing campaigns, special events, and daily marketing activities such as updating Facebook, Twitter, and the B&B website. The marketing EA will write press releases, edit and distribute marketing literature, interact with members of the press, and assist with all marketing campaigns for their assigned production. EAs will also learn about creating video content using commonly available video technology. Each EA will receive credit as Marketing Assistant for their assigned production.
Emerging Artists will receive detailed workshop training and hands-on experience related to development and fundraising, including management of special events (such as our annual Burns Supper), the creation and distribution of fundraising appeals, procurement of auction items, and grant writing. All EAs will be asked to research, write, and submit one grant for the organization during their time in the Emerging Artist Program.
All Emerging Artists will receive workshop training with B&B's Artistic Director, Associate Artistic Director, and visiting directors to learn about casting, season planning, public relations, board relations and development, donor stewardship, and other duties usually done by Artistic Directors. Each EA will be tasked with developing a "sample B&B season," including researching production history, developing season budgets, rehearsal preparation, and production planning.
All Emerging Artists will receive workshop training with B&B's Production Manager and Technical Director related to production management skills. Trainings will include how to record, reconcile, and report budgets and expenses, contracting, receiving and processing purchase orders and check request forms, as well as managing production calendars, contact sheets, databases, and policies.
All Emerging Artists will receive workshop training related to company management and administration. EAs will learn from B&B's Managing Director, Board of Directors, and guest teachers about the skills necessary to run a non-profit theatre company, including attending to the needs of artists, drafting contracts, corresponding with agents and publishers, arranging complimentary tickets, maintaining production files, developing and tracking budgets, preparing financial documents and reports, and comprehensive experience with administrative tasks. 

IDEAL CANDIDATES
B&B is seeking emerging and early career theatre professionals for this Emerging Artist Program. That includes, but is not limited to, undergraduate students preparing to graduate from a theatre program, recent graduates from undergraduate theatre programs, or individuals who are entering or returning to the theatre field after another career. Our ideal candidates have specific training in the theatrical field (either through college or a conservatory program), but are not yet established professionals in the field. We are seeking five EAs per season.

Please note: Bag&Baggage is strongly committed to affirmative action in this Emerging Artist Program. In particular, the company recognizes a critical need to offer training opportunities to gender and ethnic minority students and aspiring professionals who wish to enter the field of theater arts. As part of this commitment, B&B strongly encourages individuals who reflect the diversity of the Portland-metro area to apply.