Introducing The 2018-2019 Emerging Artist Cohort!
Bag&Baggage is proud to introduce our patrons to our second group of emerging artists! We received dozens of applications from all over the country for this program, and the competition was fierce – thank you to all of the artists who applied, and please welcome the 2018-19 Emerging Artists!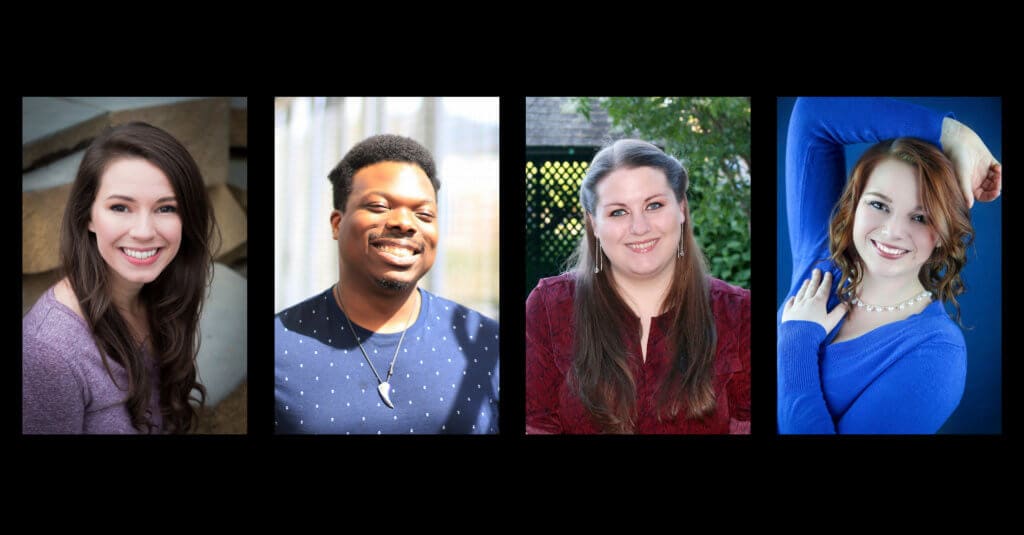 Olivia Anderson, Darwin Pringle, Kai Hennig, and Jurnee Neeko
Applications for the 2019-2020 Emerging Artist Program are now open!
Apply online at the bottom of this page.
Application deadline extended to May 27, 2019.

ABOUT THE EMERGING ARTIST PROGRAM
This is a 10-month-long program, lasting from August to May, and requiring a commitment of 20 hours per week. Each class of Emerging Artists (EAs) plays an essential role in B&B operations. Working in every facet of the organization, EAs learn standards of professionalism while building their resumes and portfolios, and forging connections within the broader theater community.
B&B's EA Program offers emerging theater artists a bridge between their training and the profession of theatre, developing each individual's skills by working alongside world-class designers, administrators, directors, and other experts. EAs not only learn a huge number of skills, they are also key members of our staff and the B&B family.
AS A B&B EMERGING ARTIST YOU WILL…
Develop marketable skills and create contacts for future employment.
Work a flexible 20 hour per week schedule.
Attend weekly 2-hour workshop training experiences.
Participate as an integral crew member for B&B's 2019-20 Season productions.

Collaboratively create, design, and perform an adapted, fully-produced children's show.

Be offered the opportunity to work as paid event staff for Vault Theater rentals and secondary events.

Benefit from working directly with our resident staff, in addition to visiting professional artists and specialists brought in specifically to advance your training.
Receive complimentary tickets to Bag&Baggage shows.
Receive a $100 monthly travel stipend.
EXPERIENCE AREAS
ASSISTANT STAGE MANAGEMENT
PATRON SERVICES/BOX OFFICE
CONCESSIONS/BAR MANAGEMENT
THEATRICAL DESIGN
TECHNICAL DIRECTION
MARKETING & OUTREACH
ARTISTIC LEADERSHIP & ADMINISTRATION
ACTING
PRODUCTION & COMPANY MANAGEMENT

IDEAL CANDIDATES
B&B is seeking emerging and early career theatre professionals for the Emerging Artist Program. That includes, but is not limited to, undergraduate students preparing to graduate from a theatre program, recent graduates from undergraduate theatre programs, or individuals who are entering or returning to the theatre field after another career. Our ideal candidates have specific training in the theatrical field (either through college or a conservatory program), but are not yet established professionals in the field.
Bag&Baggage recognizes a critical need to offer training opportunities to gender and ethnic minority students and aspiring professionals who wish to enter the field of theater arts. As part of this commitment, B&B strongly encourages individuals who reflect the diversity of the Portland-metro area to apply.
We are seeking four Emerging Artists to join us in the 2019-2020 Season. Please apply below, and direct any questions to Artistic Director Cassie Greer at cassie@bagnbaggage.org.