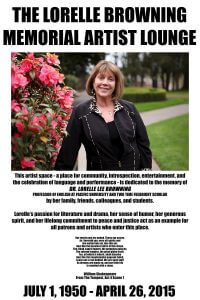 Bag&Baggage is pleased to announce The Lorelle Browning Memorial Artist Lounge: the company is naming our new artist dressing rooms and green rooms after the late Pacific University English Professor Lorelle Lee Browning, who passed away in April of 2015. Bag&Baggage is honoring Lorelle's influence on our history with a permanent plaque and room title in our new home. Every artist who performs in our building will be reminded of Lorelle's passion, humor, commitment to peace, love of language and literature, and of her enduring spirit as they prepare for, and relax after, every performance in our new building.
Lorelle's family, friends, colleagues, students, and loved ones can make a contribution in any amount to support the overall costs of the dressing rooms and green rooms. The total costs of that space are approximately $53,000 (that includes seats, lights, curtains, mirrors, make-up counters, sofas, small refrigerator, coffee and tea equipment, etc). When making a contribution, please ensure you indicate "In Memory Of Lorelle Browning" in the notes section.
All donors to the Memorial Lounge will be invited to sign the plaque placed at the lounge entrance.
Please note on the donation page that you would like your contribution directed to the Browning Memorial Lounge.