Bag&Baggage Productions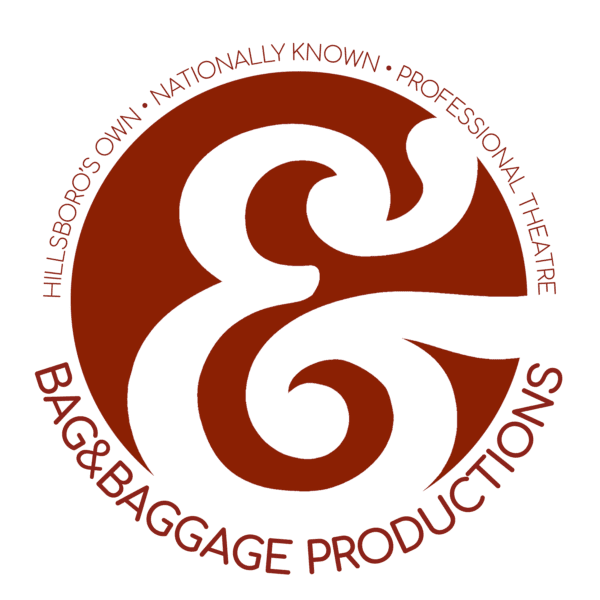 350 E. Main Street • Hillsboro, OR • 97123
Contact: Cassie GGreer
E: cassie@bagnbaggage.org
P: 503 345 9590 x4
BAG&BAGGAGE PRODUCTIONS UNVEILS NEW ARTISTIC DIRECTOR AND PLANS FOR THE 2019-2020 THEATRE SEASON
April 21, 2019 – Hillsboro, OR — Bag&Baggage Productions, Hillsboro's resident professional theatre, is proud to make two major announcements: introducing the company's new artistic leadership following this spring's departure of Founding Artistic Director Scott Palmer, and laying out an exciting five-show season to headline their third year based in downtown Hillsboro's Vault Theater.
With Palmer's hiring as the Producing Artistic Director of Sun Valley, Idaho's Company of Fools, Bag&Baggage began evaluating their options for new artistic leadership late last fall. At last night's Season Announcement event, former Associate Artistic Director and current Interim Artistic Director Cassie Greer was introduced as the next artistic leader of the 14-year-old theatre company. Greer trained in the MFA Acting program at Florida Atlantic University and received her BA in Theatre from Northern Indiana's Goshen College; she has worked with B&B since 2011, first as an actor, and then in a variety of education, outreach, and artistic support roles, culminating in the Associate Artistic Director position she  has held since 2017.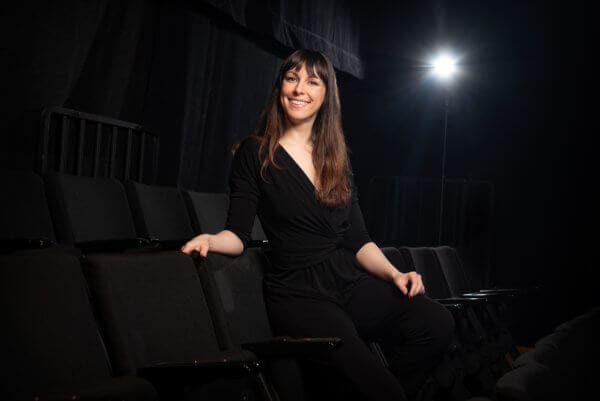 "We are excited to have Cassie step into this role at Bag&Baggage," says B&B Board of Directors Chair Gayle Nachtigal. "As our company continues to grow into an institution here in downtown Hillsboro, it is important for us to have artistic leadership that understands where we've come from and where we're going. Cassie knows this organization inside and out, and she was our clear choice to take the helm and lead us forward."
Greer joins Managing Director Beth Lewis as co-leaders of the organization, making them one of the youngest all-female leadership teams of a midsize theatre company in the country. Says Greer, "I'm incredibly honored to step into this role with a company that has been my artistic home for so much of the past decade, and I'm thrilled to be part of the wave of female artistic leadership happening across the American theatre landscape right now. Scott has created such a remarkable community here in Hillsboro, and I'm excited to build on this foundation and take our work into an even more diverse, challenging, and exciting future."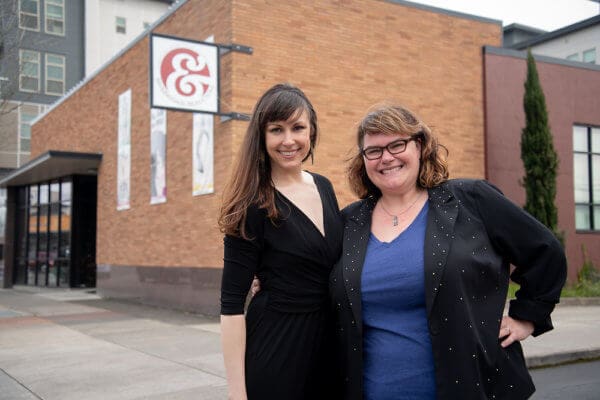 "Cassie and I have worked together for the past four years, during which we have become close friends and colleagues," says Lewis. "Over that time, I have been consistently impressed by her work ethic and dedication to Bag&Baggage. There is no way we would have been able to complete our EVOLUTION capital campaign and open The Vault Theater without her. I am thrilled for her to join me as a co-leader of this organization that I love, and I am incredibly excited for our future."
After announcing Greer's appointment as Artistic Director, plans for Bag&Baggage's 2019-20 Season were revealed – the final season selected by the outgoing Palmer. B&B will kick off their 2019-20 offerings this July with an adaptation of Shakespeare's Much Ado About Nothing by Gordon Barr, current Artistic Director of Scotland's Bard in the Botanics, directed by Greer. Barr's adaptation invites audiences to explore the classic romcom with a much more fluid approach to gender and sexuality, and celebrates true love in its many forms.
B&B will follow with a visceral stage adaptation of Anthony Burgess' A Clockwork Orange in October, done by the author himself, and again directed by Greer and choreographed by B&B Associate Artist Mandana Khoshnevisan. The show examines current social issues, violence, and toxic masculinity through movement, music, images, and Burgess' powerful words. December brings more levity to the stage at The Vault Theater, with Ken Ledwig's The Game's Afoot, or Holmes for the Holidays. In this smart and farcical holiday-time whodunnit, Sherlock Holmesian detective work takes center stage, directed by B&B Resident Artist Kymberli Colbourne.
In March 2020, B&B takes on the second season of their nationally-recognized multi-year Problem Play Project, with Anya Pearson's The Measure of Innocence, a new commissioned adaptation of Shakespeare's Measure for Measure. Through commissioning Oregon-based playwrights of color to adapt the Bard's so-called "problem plays", B&B aims to bring greater representation to their stage and take on a more diverse array of social challenges. The Measure of Innocence examines the systematic unjust incarceration of black men in the United States, and the far-reaching impact this has on families and communities; Bobby Bermea will direct a diverse cast of Portland-area actors alongside B&B Resident and Associate Artists.
The season concludes in May with Noël Coward's lesser-known Fallen Angels, a frothy comedy with a surprising amount of substance beneath the surface. Resident Artist Andrew Beck directs the story in which two best friends prepare to face their mutual ex-lover, progressively inebriating themselves as the moment of his arrival approaches, and ensuring that hilarity ensues.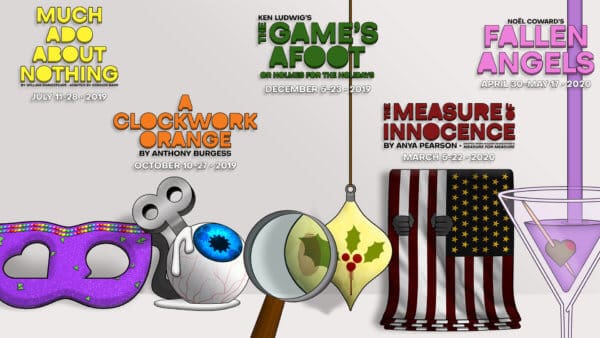 Bag&Baggage will also continue their Emerging Artist Program in the 2019-20 Season, bringing four early career theatre professionals to work in every facet of the company for the season. The program culminates with a performance for young audiences based on Grimm's fairy tales; the Emerging Artist show will take the stage in June 2020, bringing local elementary school field trips to The Vault in addition to public performances on the weekends.
Preparing to undertake her first season in the Artistic Director role, Greer remarks, "We are so excited to bring diverse, touching, challenging work to our audiences here in Hillsboro, and we can't wait to welcome even more performers, artists, and audiences to The Vault in the 2019-2020 Season. I'm particularly excited that this season will feature the directing talents of two of our Resident Artists, Kymberli and Andrew, along with welcoming new artists from a variety of backgrounds to our theatre space, allowing our company to continue to creatively expand and grow our artistic range."
In addition to the company's theatrical work, B&B will host an array of their performing arts colleagues at The Vault in the 2019-20 Season, including cabaret artist Tony Starlight; Los Angeles-based comedy troupe Fake Radio; No Filter Improv; burlesque variety show "Cabaret Varieté"; Hillsboro's Second Annual Brazil Fest; along with several others. B&B will also continue their quarterly "Films For Five" mini-film fests and the B&B A&C Arts and Culture lecture series, along with the wintertime SOLO FEST and Burns Night Supper, a Valentine's Day cabaret event, and a host of other performances and events. Says Greer, "We are honored to have such great partnerships with so many incredible performers in our community. It's so important to us that our theater space is a place that represents and celebrates the full diversity of our community, and these partnerships allow us to connect with a broader range of audiences. We want everyone in Hillsboro to know that there's something for them at The Vault."
Season Tickets for the 2019-20 Season are available online at bagnbaggage.org or by calling the box office at 503-345-9590. A Five Show Pass is $147 for adults and $124 for students and seniors; a Four Show Pass is $118 for adults and $100 for students and seniors. More information on all of the shows can be found online at bagnbaggage.org
###
Bag&Baggage is happy to provide additional details and photos about both the 2019-20 Season and the appointment of Cassie Greer as Artistic Director. Please email cassie@bagnbaggage.org to request more information. 
ABOUT BAG&BAGGAGE PRODUCTIONS: Bag&Baggage Productions is Hillsboro's only professional theatre company, and is committed to innovative and provocative new interpretations of the classics of world literature, bringing surprising new insight to stories and writers from our past. As the largest nonprofit cultural organization in Hillsboro, we have gained an international reputation for excellence, and believe we have the responsibility to connect our work to the lives and experiences of the diverse array of people who call our community home. Our wide range of programming regularly attracts audiences of more than 15,000 to our downtown Hillsboro home, The Vault Theater.
bagnbaggage.org and vaulttheater.com