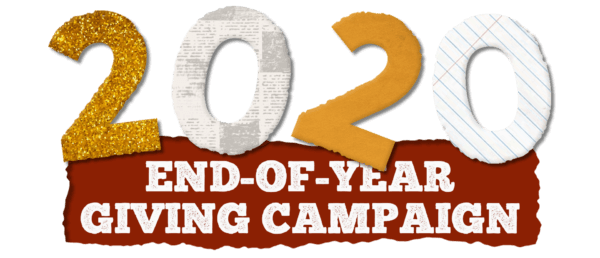 Dear friends,
We've made it to the final month of 2020! Cheers to all of us! As it's the end of the year, you probably already know what that means… yes, we're coming to you asking for your continued support of your favorite Downtown Hillsboro-based, nonprofit, professional theatre company!
You may have noticed that almost all of the programming we've produced since March (including our Sequestered Soliloquies and Unpacking the Baggage series, Community Spotlights, our Sofa Soirée, Dia de los Muertos and Bar[d] Party events, and our audio production of Hay Fever on the KBNB Podcast) has been brought to you entirely free of charge. This does not mean that we've stopped paying the incredible artists behind these programs, but that we recognize how important it is to be able to experience the arts - especially in moments of crisis and hardship, as we've been experiencing this year - and we've tried to make our work as accessible as we can for as many people as we can. This has been possible thanks to the support we've received from our funders, our city, and YOU, our B&B family. Thank you! 
As we look to the coming months, we plan to keep producing virtual projects, work towards greater equity and justice within our company, get our theater in shape for our eventual return to in-person programming (we're currently aiming at the summer/fall of 2021), and continue to connect and collaborate with other artists and organizations in our community. We're grateful to be on this crazy journey, and we want you along for the ride! Your continued financial support of Bag&Baggage helps ensure that we're able to stay creative and innovative, continuing to bring you the programming that we've developed throughout 2020 as well as new opportunities that we've only just begun to dream up.

We also have a couple of extra giving incentives for you, thanks to the B&B Concierge Club and the Oregon Cultural Trust: 
If you are one of the first 50 individuals to make a donation of any amount to Bag&Baggage this month, we will be sending you a limited edition, handmade Baggage-inspired mask (yes, it's the most "2020" gift we could think of…), courtesy of the Concierge Club!
Most importantly, we know that it's been a difficult year for so many of us, and we sincerely mean it when we say that no gift is too small. It takes a village, as the expression goes, and we value all of our villagers. 
So again, cheers to all of us, and thank you for being part of the Bag&Baggage family! 
Sending all our love to you and yours – today and throughout this holiday season,
Cassie & Beth, on behalf of the whole B&B crew