Contact: Scott Palmer
scott@bagnbaggage.org
www.bagnbaggage.org
BAG&BAGGAGE ANNOUNCES THE DR. LORELLE BROWNING MEMORIAL ARTIST LOUNGE
The Hillsboro-Based Theatre Company Will Honor The Memory Of Pacific University English Professor In New Home
Hillsboro, OR-  Bag&Baggage Productions, Hillsboro's resident professional theatre, is pleased to announce the creation of the Lorelle Browning Memorial Artist Lounge in honor of late Pacific University English Professor Lorelle Le Browning, who passed away in April of 2015. Dr. Browning served as a member of the Bag&Baggage Board of Directors from 2009 until 2011 and had an enormous influence on the company's work until her death last year.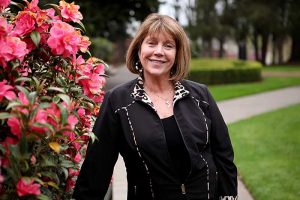 Dr. Browning was a faculty member at Pacific University in Forest Grove where she taught courses in Renaissance Literature, Shakespeare, Studies in Drama, Women in War, and had a special research focus on peace studies and Vietnam War Era Literature and Film. She was also the founder of the Vietnam-America Theatre Exchange and was a Senior Fellow at Tan Tao University in Ho Chi Minh City where she collaborated with the US Embassy on a production of Arthur Miller's All My Sons at Hanoi Youth Theatre. Dr. Browning also produced a multi-cultural production of Shakespeare's A Midsummer Night's Dream with Artists Repertory Theatre in Portland which featured American and Vietnamese actors. The production was the focus of an award winning documentary, A Dream In Hanoi, which has aired numerous times on PBS.
Dr. Browning was first introduced to Bag&Baggage's work when she attended a performace of Artistic Director Scott Palmer's production of Shakespeare. Dr. Browning was quoted as saying, "When I first heard what Bag&Baggage was up to, I was skeptical. And then I was thrilled."
Soon after, Palmer began meeting with Dr. Browning regularly, consulting with her on a range of his works, including the world premiere of an adaptation of Shakespeare's Taming of the Shrew alongside the rarely performed sequel, The Woman's Prize, by John Fletcher.
"I remember very clearly saying to Lorelle that I wasn't sure this was a good idea. She just smiled, laughed, and told me to get over myself and do the show because no one else was going to do it," said Palmer. "For years after, I was honored to be a regular guest in her Shakespeare classes, and had the opportunity to meet with her frequently as a friend and colleague. Lorelle was a huge inspiration to me personally, as she was to hundreds of students and colleagues throughout her life."
To honor her memory and her invaluable contributions to the artistic life of the community, Bag&Baggage is naming a room in their new building after Lorelle.
"The company is naming our new artist dressing rooms and green rooms after her as a way of memorializing Lorelle's influence on our history," said Palmer. "There will be a permanent plaque and room title so that every artist who performs in our building will be reminded of Lorelle's passion, humor, commitment to peace, and her love of language and literature. Those are the values that we want artists to think about as they prepare for, and relax after, every performance in our new building."
Dr. Browning's family, friends, colleagues, students, and loved ones can make a contribution in any amount to support the overall costs of the dressing rooms and green rooms. The total costs of that space are approximately $53,000 (that includes seats, lights, curtains, mirrors, make-up counters, sofas, small refrigerator, coffee and tea equipment, etc).
When making a contribution, donors are encouraged to include "In Memory Of Lorelle Browning" in the notes section. All donors to the Memorial Lounge will be invited to sign the plaque placed at the lounge entrance. More information on the memorial can be found online at www.bnbevolution.org.
About Bag&Baggage Productions: Bag&Baggage is committed to provocative, innovative interpretations of classical works of American and English Drama. Through the use of major literary adaptations and inventive stagings, the company seeks to reconnect the great works of drama to new audiences. Bag&Baggage is the only professional theatre in Hillsboro and is the resident in-house performing arts group at the historic Venetian Theatre in downtown Hillsboro. www.bagnbaggage.org.
# # #