BAG&BAGGAGE'S FUNDRAISING HAT-TRICK
Hillsboro's Resident Professional Theatre Company Marks Three Consecutive Fundraising Milestones
HILLSBORO, OR – June 18th was a banner day for Bag&Baggage Productions.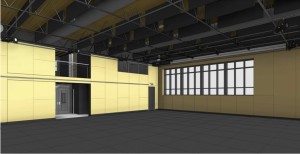 Last Saturday marked the Hillsboro-based professional theatre company's 8th Annual Gala Dinner and Auction and the success of the event has helped the theatre break three important fundraising records. Bag&Baggage held the WORKS IN PROGRESS Gala in their recently purchased former Wells Fargo bank building in downtown Hillsboro which will eventually be refurbished into a 160 seat studio theatre that will act as the company's permanent artistic and administrative home.
"The place was packed," said B&B Founding Artistic Director Scott Palmer. "And our guests were incredibly generous, both in their donations to our PASSPORT free ticket program and to our EVOLUTION capital campaign. As a result, we raised our largest amount ever, more than $73,000, which had two remarkable knock-on effects."
The EVOLUTION Campaign, which seeks to raise a total of $1.4million for the refurbishment of the building, started almost exactly one year ago. Contributions at the Gala helped B&B meet a $60,000 Challenge Matching Grant from The Collins Foundation six months before the challenge deadline which, in turn, put the company at over 55% of the way towards their final campaign goal.
"I just couldn't believe it," said Palmer, who emceed the Gala event. "In the space of just a few hours we not only raised the largest amount of money at a gala in the company's history, but we also made the Collins Foundation Match, which then pushed us well over the 50% mark towards our capital campaign goal. It was a remarkable hat trick of fundraising successes for us."
The Collins Foundation award matched any donation from individuals or businesses dollar for dollar, with no limitations on the amount, as long as those donations are for capital campaign costs. Challenge grants are traditional mechanisms for major capital campaigns, providing non-profits with a vehicle for encouraging individual and corporate giving at a higher or more frequent level.
"The great thing about the Collins Foundation grant is that it allowed our supporters to give at any level and have the impact of that gift doubled," said Palmer. "And it worked. Hundreds of people took advantage of the match, including concerted efforts by groups like the Hillsboro Rotary who, just by themselves, raised more than $15,000 towards the match in just a few short months."
Other campaign programs, such as the "Take A Seat" campaign that provides patrons with the chance to sponsor one of 144 moveable seats for $250 and the "Bits and Pieces" campaign which allows people to "go shopping" for specific items like light switches or lighting instruments, were also part of The Collins Match. Cassie Greer, B&B's Capital Campaign Manager, said, "We got a few more chairs sponsored at Saturday's Gala, which means there are only 20 of the 144 chairs available for sponsorship left. We should have all of them sponsored in just a few more weeks."
Current Hillsboro City Council President and Mayoral Candidate Steve Callaway was in attendance at the Gala, along with current Mayor Jerry Willey and Hillsboro City Councilors Fred Nachtigal and Rick Van Bevren. Councilor Callaway said, "The support for Bag&Baggage was truly amazing. I am so proud of Hillsboro's own professional theatre company, and it was incredibly gratifying to see our community come together to support this important cultural institution."
More information on the Bag&Baggage EVOLUTION capital campaign, including opportunities to donate online, can be found at www.bnbevolution.org.
# # #