Contact: Scott Palmer
503 516 4840
scott@bagnbaggage.org
www.bagnbaggage.org
September 14, 2016

BAG&BAGGAGE'S EVOLUTION CAPITAL CAMPAIGN BEGINS CONSTRUCTION 6 MONTHS AHEAD OF SCHEDULE

Hillsboro's Resident Professional Theatre Company Slated To Begin Construction On New Permanent Home November 1, 2016
HILLSBORO, OR – The phone call came in the middle of a meeting with the Hillsboro Library. "We were sitting in a meeting chatting about partnerships with the Library when my phone rang. I looked at the incoming number on my phone," said Scott Palmer, Bag&Baggage's Founding Artistic Director, "and didn't recognize it, so I just let it go to voicemail. But then our Managing Director's phone rang, a call from the same number, and she answered." The call was from The MJ Murdock Charitable Trust with the news that Bag&Baggage's grant request for $250,000 to support the theatre company's capital campaign had been approved by the Trustees. "Needless to say, our meeting with the Library took a break while we all celebrated," said Palmer.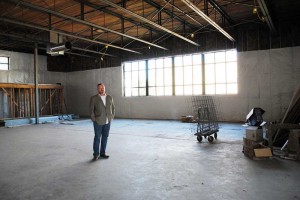 Bag&Baggage, Hillsboro's resident professional theatre company, purchased a former Wells Fargo bank building on Main Street in downtown Hillsboro in July of 2015. The purchase was possible through an innovative partnership with the City of Hillsboro which provided B&B with a low-interest rate loan. Bag&Baggage, which has been the resident performing arts group at The Venetian Theatre for the past 9 years, began raising funds from individuals, businesses, and trusts that same month with a goal of raising $1.4 million by March of 2017.
"Of that $1.4 million, about $1.2 million is dedicated to direct construction costs. The remainder would go to a Working Capital fund to help protect the company in case of an emergency," said Beth Lewis, B&B Managing Director. "All of our planning indicated that it would take us until January or February of 2017 to reach that key $1.2m mark. But, when the folks from Murdock called, we jumped significantly ahead in our timeline. So much so that our Board of Directors voted to move forward with construction nearly six months ahead of schedule."
With the contribution of $250,000 from the Murdock Trust, Bag&Baggage has raised nearly $1.1 million towards their goal and anticipate raising the remaining $300,000 for the campaign from a range of trusts, foundations, and individuals within the next few months.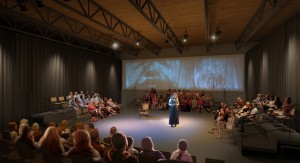 "Although our Board has voted to move ahead, we still have some fundraising left to complete," said Palmer. "But, given how close we are to our goal, we expect that major donors and other trusts will want to jump on the bandwagon and help us get our new home open and operating by April of 2017."
The MJ Murdock Charitable Trust award is just one of a number of donations to the campaign. Other major charitable trusts include the Collins Foundation, the Jackson Foundation, the Washington County Visitors Association, the PGE Foundation, the Hillsboro Rotary Foundation, the Ritz Family Foundation, and others. A significant percentage of the funds raised for the campaign have come from individuals, donating anywhere from $5 to $50,000.
Once completed, the EVOLUTION campaign will transform the former bank building into a state of the art, highly flexible performance and administrative home for Bag&Baggage. "There is no way to describe what an impact having our own home will have on our future and on the quality of our work," said Palmer. "We have had a remarkable 9 years as Hillsboro's resident professional theatre, gaining attention and national acclaim for our approach to theatre; with the new building, we are looking at an even brighter future for the company and our work."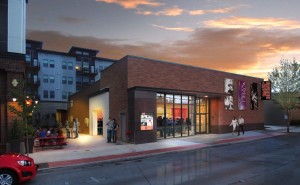 Working with award-winning Portland firm Opsis Architecture as the main architects and Rainier Pacific Development LLC as the general contractors, Bag&Baggage has developed a layout for the building that will provide audiences with a much more intimate theatrical experience, and one that has a much higher technology profile. "In our new space, our audiences will be much closer to the performers, and we will also have a larger range of lighting, sound, and projection equipment available to us," said Palmer.  "All of which, we think, will transform the way we perform and the way audiences experience our work."
Construction is slated to begin on November 1st, 2016 and is expected to be completed by May 1st, 2017. During construction, B&B staff will hold weekly tours for the public and interested donors who wish to see the progress of the building and learn more about how they can help complete the project.
Over the past few years, Bag&Baggage has been hailed as a highly-inventive and community-focused theatre company. In 2015, B&B received an American Theatre Wing National Theatre Company award, honoring the theatre for its innovation, excellence, and connection to Hillsboro. In the same year, the American Theatre Magazine described B&B as "wildly and deeply inventive," and as having "a profound commitment to its suburban community."
A unique partnership between the City of Hillsboro and B&B allowed the company to purchase the bank building as a means of continuing the City's long-standing commitment to arts and culture as a key part of the City's economic and community strength.
More information on the EVOLUTION campaign can be found online at www.bnbevolution.org, or by visiting the main website at www.bagnbaggage.org.
# # #
Editor's Note: Tours of the building prior to, or during, construction can be arranged by calling Cassie Greer, Director of Advancement, at 503 345 9590 or by email at cassie@bagnbaggage.org.