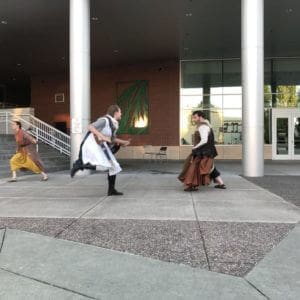 There is a vibrant tradition of performing William Shakespeare's playtexts cross-, multi-, and trans-culturally. Such productions help us think through our own positions of privilege and reflect on the paradox of globalization—that to learn about other countries and cultures seems to always come with the threat of violence. For post-colonial writers, Gabriel García Márquez called this paradox the "crux of Solitude": "poets and beggars, musicians and prophets, warriors and scoundrels, all creatures of that unbridled reality, we have had to ask but little of imagination, for our crucial problem has been a lack of conventional means to render our lives believable." A play interested in Shakespeare's text as a shared vocabulary, and then putting that in conversation with other shared cultural vocabularies, Bag & Baggage's world premiere of "Romeo & Juliet (Layla & Majnun)" is stunning.
A composite of the Persian epic by Nizami Ganjavi  and the English play—adapted by Scott Palmer and Melory Mirashrafi—this production is uniquely intersectional: half of all the proceeds from last night's preview went to Defensa de la Dignidad, a new initiative providing public defender services and other resources to those unjustly deported, with especial attention to the region's Lantinx community. Staged on the concrete steps of the Hillsboro Civic Center, itself reminiscent of a court house, Jim Ricks-White's scenic design emphasized our prejudices against émigrés of all kinds, such as migrant farm workers, Bedouin society, the ongoing Syrian refugee crisis, Romani society, and the settler colonialism of the American pioneer movement that so shapes Oregon's sense of national place. In this production, friction is produced by the Bedouin lord, the Sayyid (Lawrence Siulagi), attempting to make trade and marriage alliances with the embassy from the Roman Emperor Constantine, led by Lady Capulet (Mandana Khoshnevisan). Historians call this syncretism: the (attempted) amalgamation of different religions, cultures, or schools of thought. In this smart and efficient adaptation, syncretism is effected not merely in the mixing of texts, but in the religious, character, and dramaturgical conflations.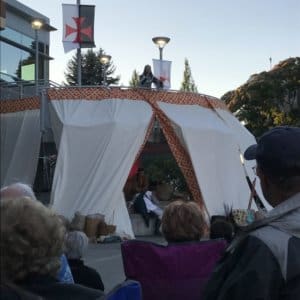 Perhaps the most dramatic example of this syncretism is the death of Tybalt, played by/as a woman, which is reconceived as a Warrior of the Cross (read: crusader) expertly by fight choreographer Signe Larsen. Tybalt's motives, the stakes of Romeo/Majnun (Nicholas Granato) and Juliet/Layla's (Arianne Jacques) miscegenation is apparent, as well as the racism of the epithets she wields as well as weapons, like "Mahound." After the death of the Roman, the Bedouin warrior Benvolia (Cassie Greer) gestures to give last rights to Tybalt's body in a tent fashioned from an industrial, corporate staircase. Simultaneously above, Juliet/Layla gives her famous speech of sexual anticipation, where "lovers can see to do their amorous rites." But the final rites ongoing below visually enjamb sex and death, making other parts of Juliet/Layla's soliloquy ring anew. For example,
"Come, civil night,
Thou sober-suited matron, all in black,
And learn me how to lose a winning match,
Play'd for a pair of stainless maidenhoods"
It is a beautiful overlap that gives new depth to both Tybalt's death—no longer a bratty lord with no one to pick a fair fight with—as well as Juliet's knowing sacrifice here of her family and alliances.
One of the most iconic moments of the play is the dovetailing sonnet shared by Romeo/Majnun and Juliet/Layla when they first meet:
ROMEO/MAJNUN: If I profane with my unworthiest hand
This holy shrine, the gentle fine is this:
My lips, two blushing pilgrims, ready stand
To smooth that rough touch with a tender kiss.
JULIET/LAYLA: Good pilgrim, you do wrong your hand too much,
Which mannerly devotion shows in this;
For saints have hands that pilgrims' hands do touch,
And palm to palm is holy palmers' kiss.
Having just fallen out of love with Rosalind, it is hard to find an innocent Romeo in this moment. Usually. With the inclusion of Nizami's text, that baggage was removed, and it is made clear that Romeo/Majnun is an upstanding, religious, and morally-lauded heir to his community. The language of pilgrims, palms, and shrines paints an entirely different picture of minarets and the decorous, respectful separation of the genders. Juliet/Layla makes first contact, yet realizes her transgression when he turns away, shocked at his own lack of discipline.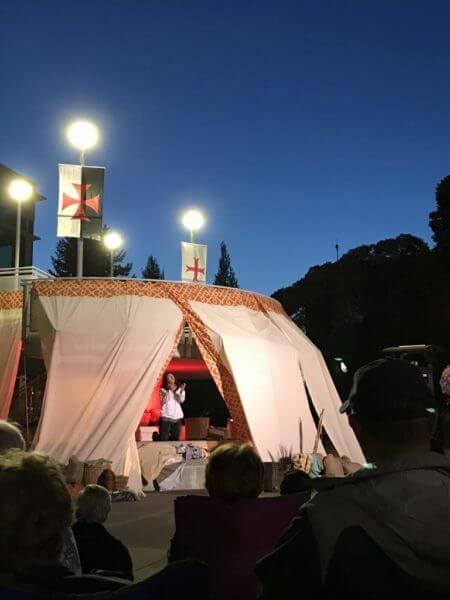 This is to say, for once we get a Romeo who is respected by his community, whose moral compass is clear, who I can believe (as a warrior) might logically win a battle with Tybalt, and, most affectingly, has to be convinced by Juliet/Layla that he deserves love, deserves to be touched, rather than tripping over himself to quell testosterone. I never realized how little Shakespeare's play encourages me to respect Romeo until Majnun. This is exactly what we would want from a mash-up: the insights of one culture illuminating things about the other, and vice versa.
The very title of this adaptation gets to the heart of these cultural collisions. Throughout the performance, Romeo is interchangeably called Majnun, and Juliet called Layla. They aren't distinguished identities, they are merely pseudonyms, synonyms for the woman who is "a jasmine bush in spring" and the man who is "a meadow in autumn." It poses only a moment of confusion, but once the characters name themselves and each other, you understand that these names refer to the same persona—whether Italian or Persian, all children of Mediterranean shores who teach us how to hold our hearts when they are inevitably broken.