Bag&Baggage – Building The Next Generation of Theatre Artists and Audiences
There has been a lot of discussion in the past few years about declining audiences for the performing arts. There are a lot of theories about why this is happening; audiences are aging, becoming more interested in television and film, programming choices, and ticket prices…but we also know that being involved in theatre at a young age is an enormous predictor of future involvement in theatre as a performer, audience member, donor and patron.
At Bag&Baggage, we are 100% committed to helping lay the groundwork for a future generation of theatre fans through a range of initiatives that give young people the chance to participate in our work for free and, in some cases, in paid roles within the company! It isn't just a good way to build future audiences, it is also just the right thing to do.
Here are a few ways that B&B is working to engage young people and help build the next generation of theatre artists and audiences:
Our PASSPORT Program: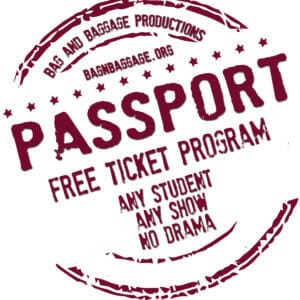 PASSPORT is an innovative and wide-reaching program that provides high school students from a four county region with free, on-demand tickets to any Bag&Baggage performance. The process is simple: if you are a student at a high school, tribal school, online academy, charter school or registered home school student from Washington, Yamhill, Columbia or Tillamook county you simple show up at the box office, show a valid student ID and if there are unsold tickets to that day's performance, we will give you one. No questions asked. Over the years, thousands of students have taken advantage of this program to experience the joys of live theatre for free. More information can be found online here.
Technical Internships: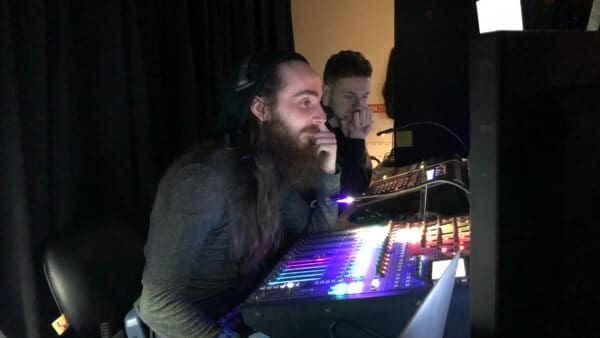 B&B offers paid internships for two students for every production. These interns often act as members of the stage management team: running the light board, operating the sound board, or working backstage as run crew. There is an application process, and we prefer to work with students with an interest in theatre from within Washington County who are in either their junior or senior year of high school. These are paid internship experiences working alongside our professional stage managers and production team members. Required dates of availability and application deadlines for each show of the 2017-18 season are listed below.
Deathtrap – September 30-October 31, 2018; apply by September 18
Bell, Book and Candle – November 25-December 23, 2018; apply by November 13
The Island in Winter, or La Isla en Invierno – March 3-24, 2019; apply by February 19
Peter/Wendy – April 28-May 19, 2019; apply by April 16
To apply for a technical internship, please send a short letter of interest to our Associate Artistic Director, Cassie Greer, at cassie@bagnbaggage.org. In the letter, please identify what area of production you are interested in learning, and what previous experience you have had working on theatrical productions with you school or other theatre groups. You can also contact Cassie with questions or for additional information.
Hillsboro School District College and Career Pathways Internships: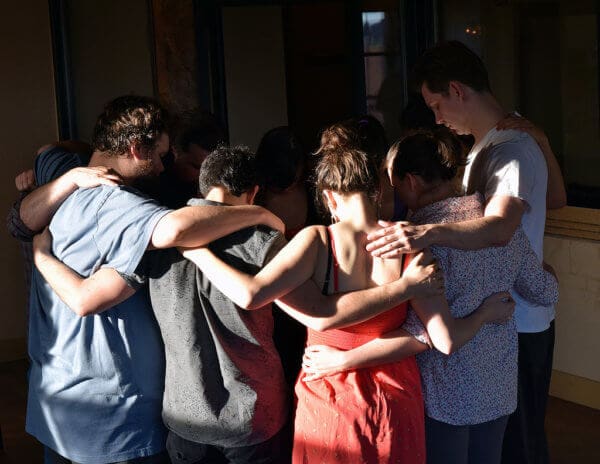 Working alongside the College and Career Pathways program at the Hillsboro School District, B&B is pleased to provide a number of internship, job shadow and other career/college experiences for high school students from our home district. Currently, we have internships available for:
Photojournalism – receive training and direct experience taking production and rehearsal photos of our shows for use in press releases, promotion, and marketing.
Theatre Criticism – receive training in writing theatre reviews for newspapers, online resources and school papers.
Job Shadowing – spend time with our staff, actors, and production crew learning more about what our jobs means and what they involve.
Please contact our Associate Artistic Director, Cassie Greer, if you are interested in learning more about our involvement in College and Career Pathways! cassie@bagnbaggage.org
More information on the Hillsboro School District program can be found online here. 
The Silverna Scott Technical Theatre Internship:
Named in honor of recently retired Hilhi Drama Teacher Silverna Scott, this internship is available to any junior or senior at Hillsboro High School with an interest in technical theatre. This is a paid internship and is offered once per year. More information can be found online here.
TEACHER AND STUDENT STUDY GUIDE RESOURCES:
We are pleased to provide detailed study guides for all of our performances! These Study Guides provide lots of great history and background on the shows, along with discussion questions for use in in-class work.
As You Like It or, Love In A Forest – As You Like It Guide
Deathtrap – coming in September of 2018
Bell, Book and Candle – coming in November of 2018
The Island in Winter or, La Isla en Invierno – coming in February of 2019
Peter/Wendy – coming in April 0f 2019